Conway
Where investment advisors look at how your money is growing, the investment researchers at Conway look at where the market is going. Since 2010, the firm has equipped advisors and investors across the country with the data and technology they need to build trust and well-researched financial portfolios.
Role
Branding
Web Design
Portal Design + Software Development
Copywriting
Print Collateral
Industry
Financial Services
Financial Technology (Fintech)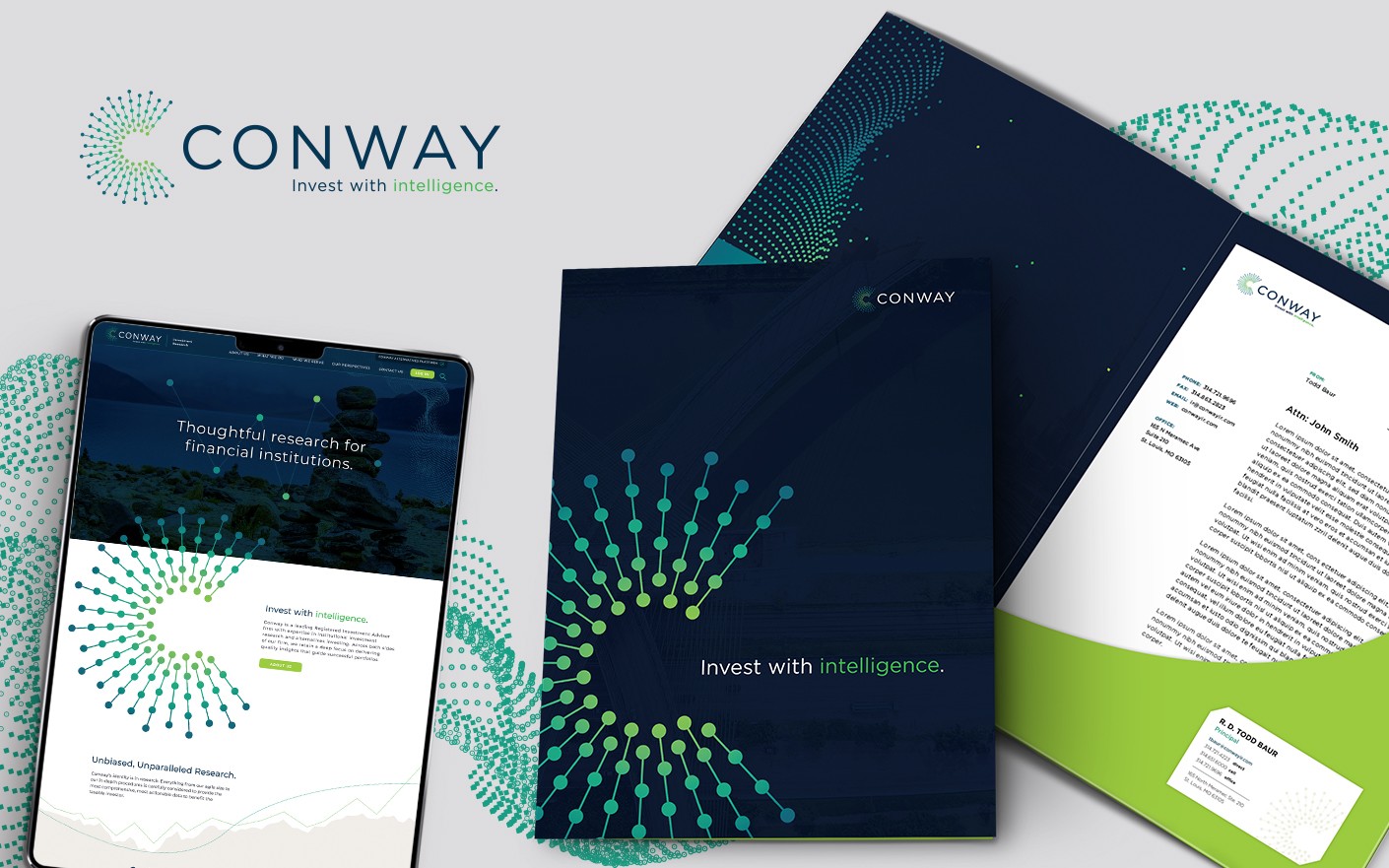 The Challenge
As finance and technology (fintech) continued their evolutions, the team at Conway Investment Research saw a convergence point and an opportunity to bring their years of research expertise to a new audience of alternatives investors. Conway had the talent and the technology to make it happen. Through our experience with financial services marketing, we knew how to help: it just needed a story.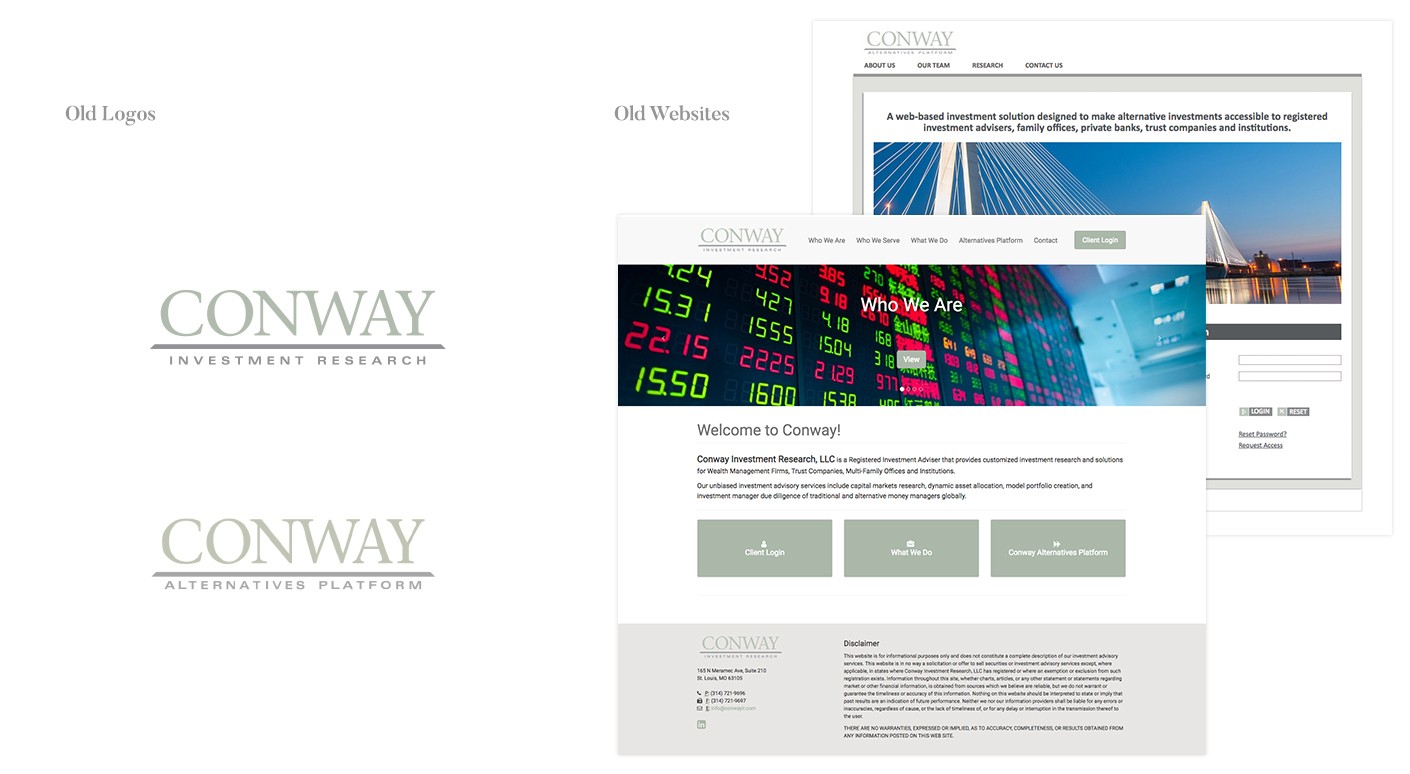 Our Approach
Brand Identity
That story began with the name. Our financial services marketing team realized that very few fintech platforms are owned by research firms, and although the firm's data is in a league of its own, the Conway Investment Research name created some confusion with platform clients. Our solution was simple: standardize one great name "Conway," and position the firm's expertise to span investment research and alternatives investments.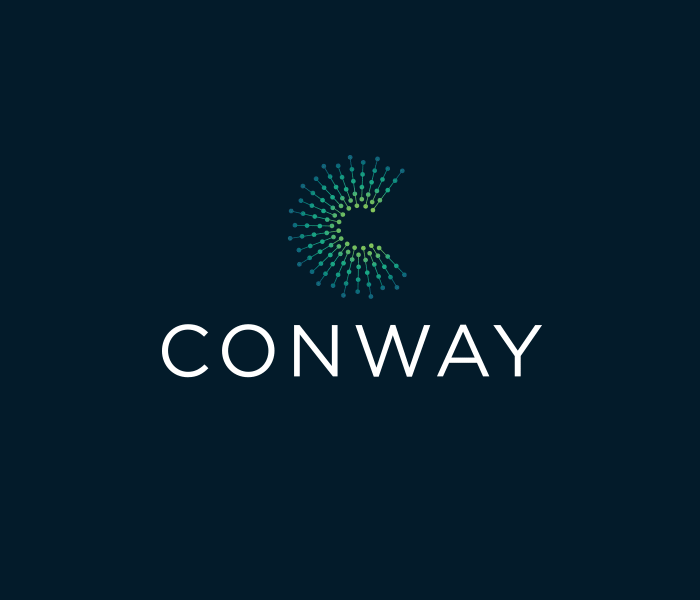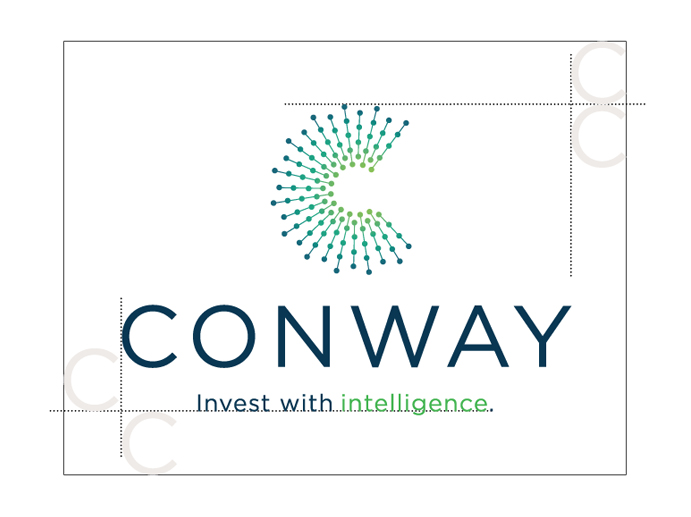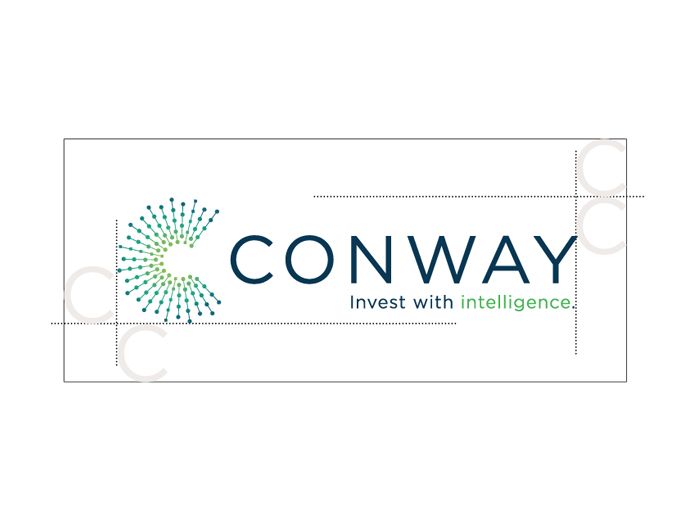 An important piece of financial services advertising is making sure the firm has a clear brand image. As we moved through our branding process, we spoke extensively with Conway's leadership about the firm and its competition. We learned that, where some firms outsource their research, both sides of Conway's business are built on a commitment to quality data and actionable strategies for clients. This thought became the foundation for our brand narrative as we shaped Conway as a group of forward-thinking, tech-savvy researchers.
Anchored by the tagline, Invest with Intelligence, Conway's brand inspires trust and stability in the ever-evolving financial world. An important piece of effective branding and content marketing for financial services is design. We created a new logo taking cues from data points or light diodes as a nod to the firm's roots in illuminating research while establishing a more interconnected, techy feel. Its color palette, highlighted by warm greens and a deep navy, evokes peace of mind that their solutions are backed by the very best financial intelligence.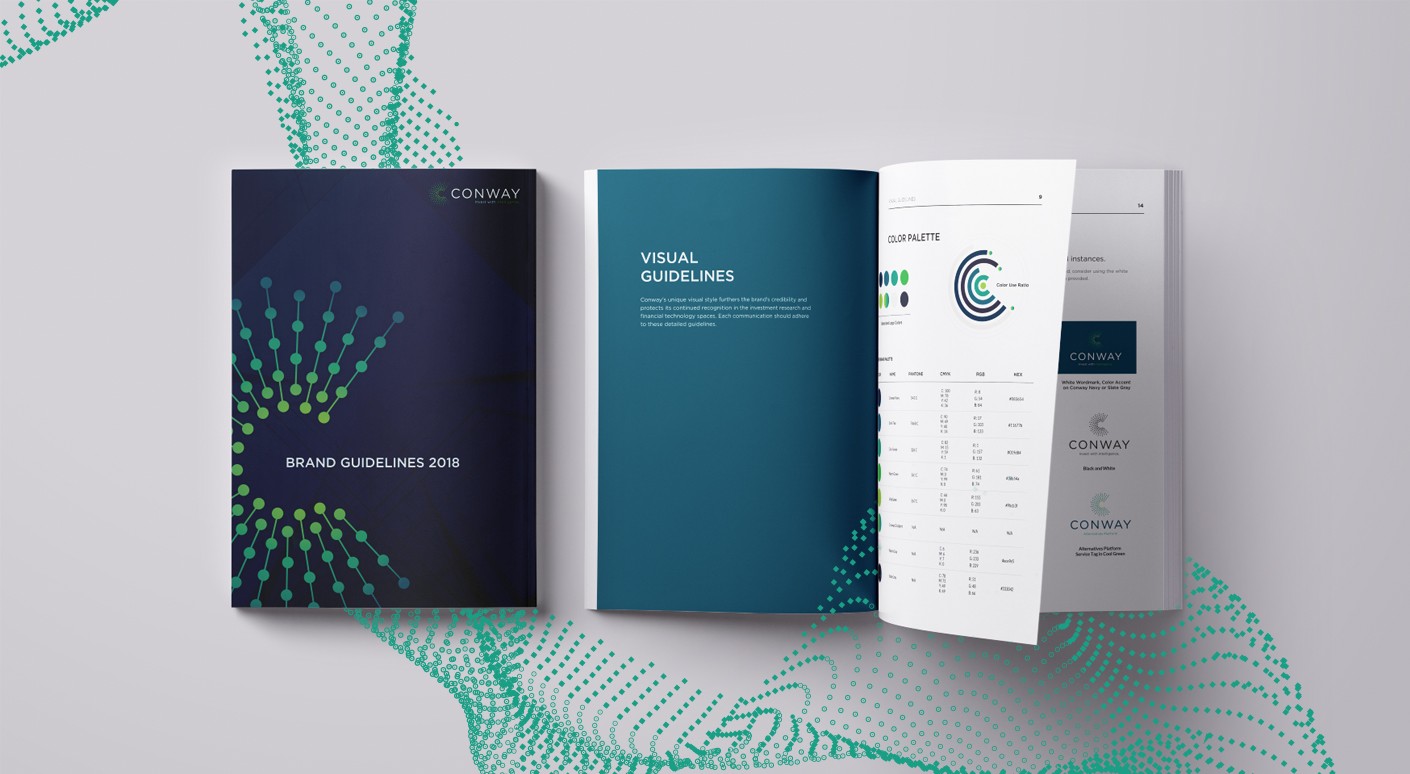 Web Design
Although both sides of Conway's business were growing, its client base rarely overlapped. Research clients weren't often platform clients, and vice versa. Our financial services marketing team worked closely with Conway and elected to provide each audience a dedicated web experience and build two websites that effectively market one another with opportunities for cross-pollination between Conway's alternatives platform and its investment research unit.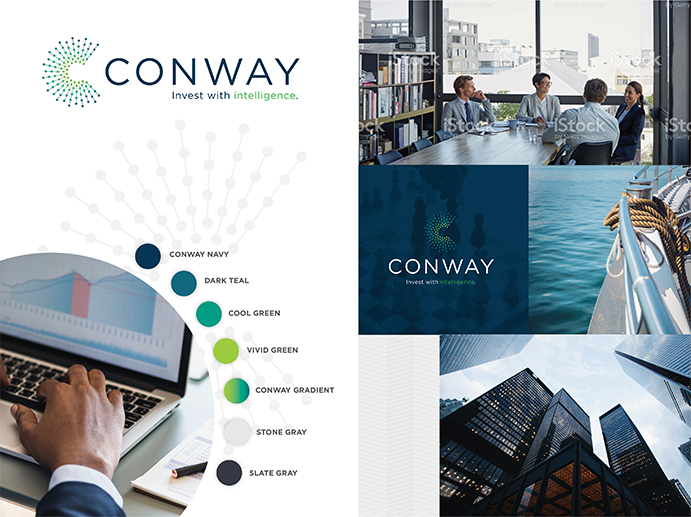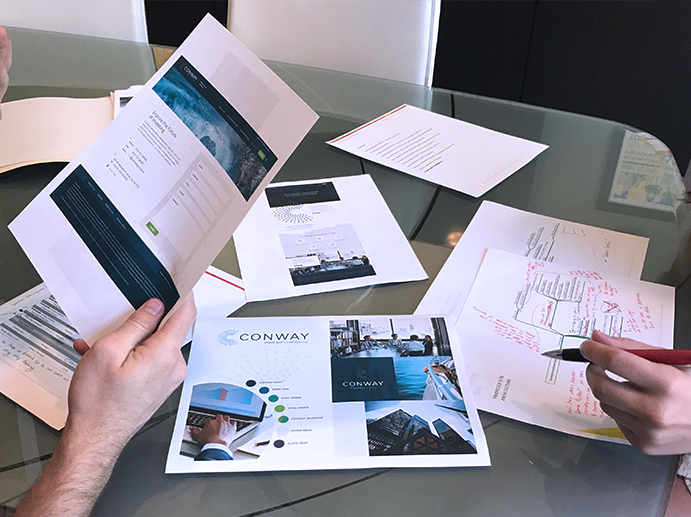 Digital marketing for financial services can be complex, and the decision to create two websites for separate audiences created a number of design challenges that we had to think through carefully. The two sites had to maintain a level of consistency with one another, while still keeping unique identities. In addition, if a user found one site while searching for the other, they needed a way to easily click between the two.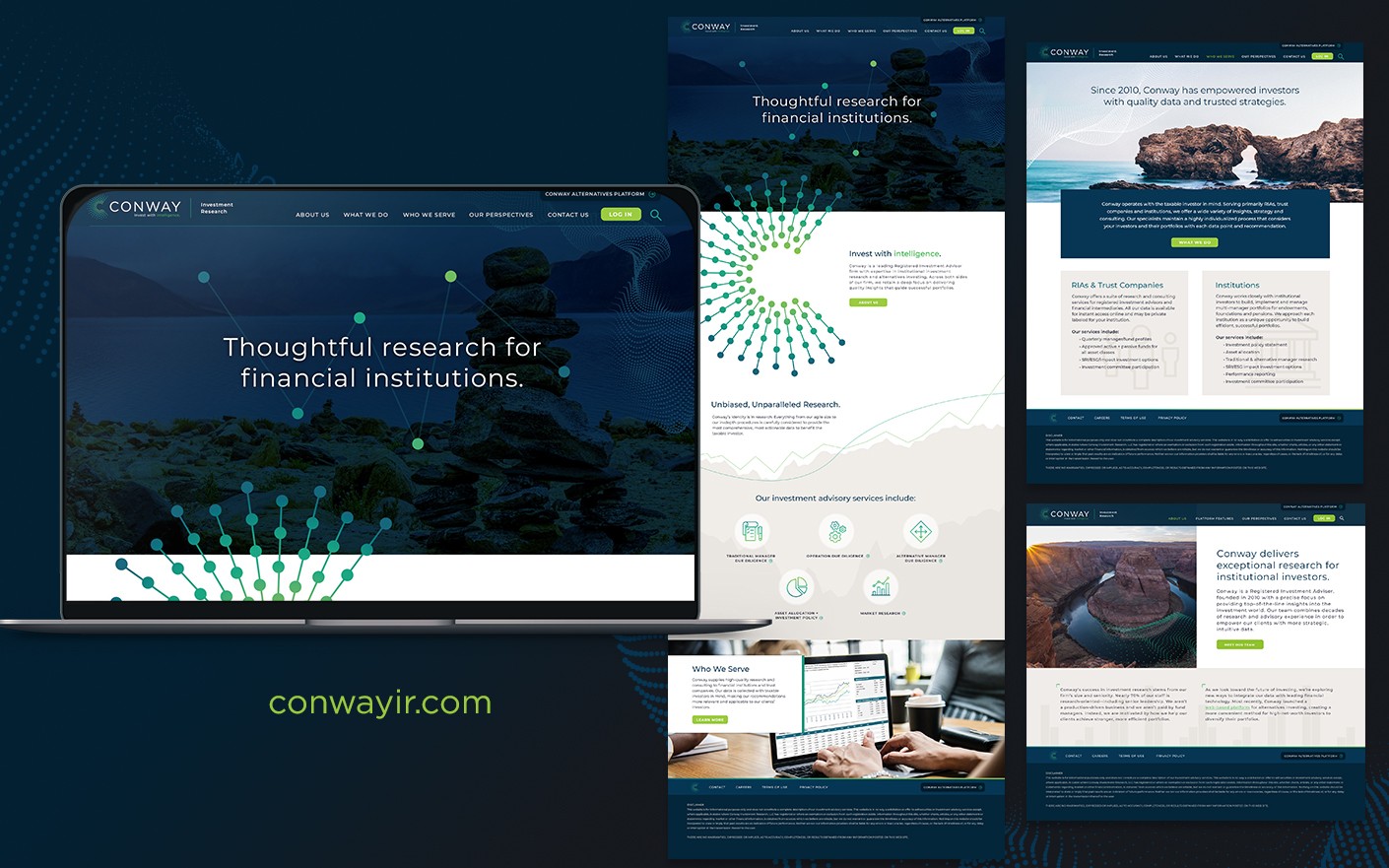 We felt confident in our financial services marketing abilities, and responded with two websites that share core elements, such as navigation menus and styling–but use content positioning to tell independent stories. The alternatives platform site, inspired by the brand's mantra of connectivity and access, features cityscapes, bridges and interstates across its photography. The investment research site, nodding to balanced portfolios and financial peace of mind, features the organic observances of calming waters and sturdy rock formations.
As we developed both sites, we wanted to elevate Conway's name above the competition through experience. Content marketing for financial services can be complicated, and it's easy to fall into the trap of speaking in jargon or looking like every other firm. We recognized that Conway's audience is deeply knowledgeable about the industry. They don't need to be taught what Conway does–they need to see why Conway does it better than anyone else. We armed their brand with the service tagline, "Built for access. Backed by intelligence.," to guide that value messaging.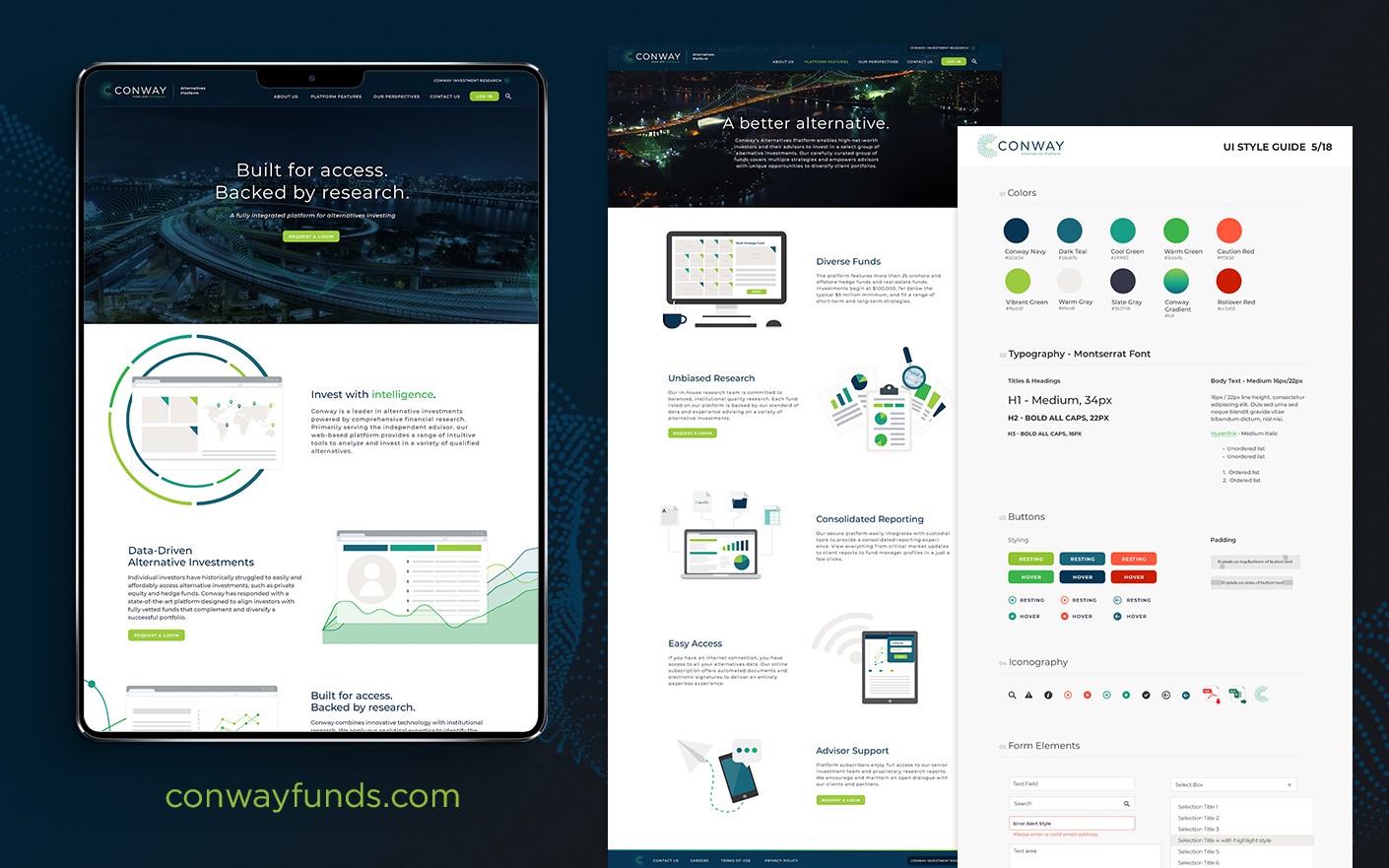 Client Portals
Both Conway's alternatives platform and investment research sites feature client-facing portals. Clients use these password-protected portals to access their individual data and manage their investments. However, these web applications were developed by a third party and didn't reflect Conway's new brand identity.
In order to create a more cohesive brand experience, we developed and applied UI style guides for each portal. These detailed guides laid out key colors, button styles, iconography, form styles and graphic elements to align the back-end portals with the same visual language seen on the public-facing websites. Our financial services marketing agency includes a software team that was instrumental in applying both functionality and user experience enhancements.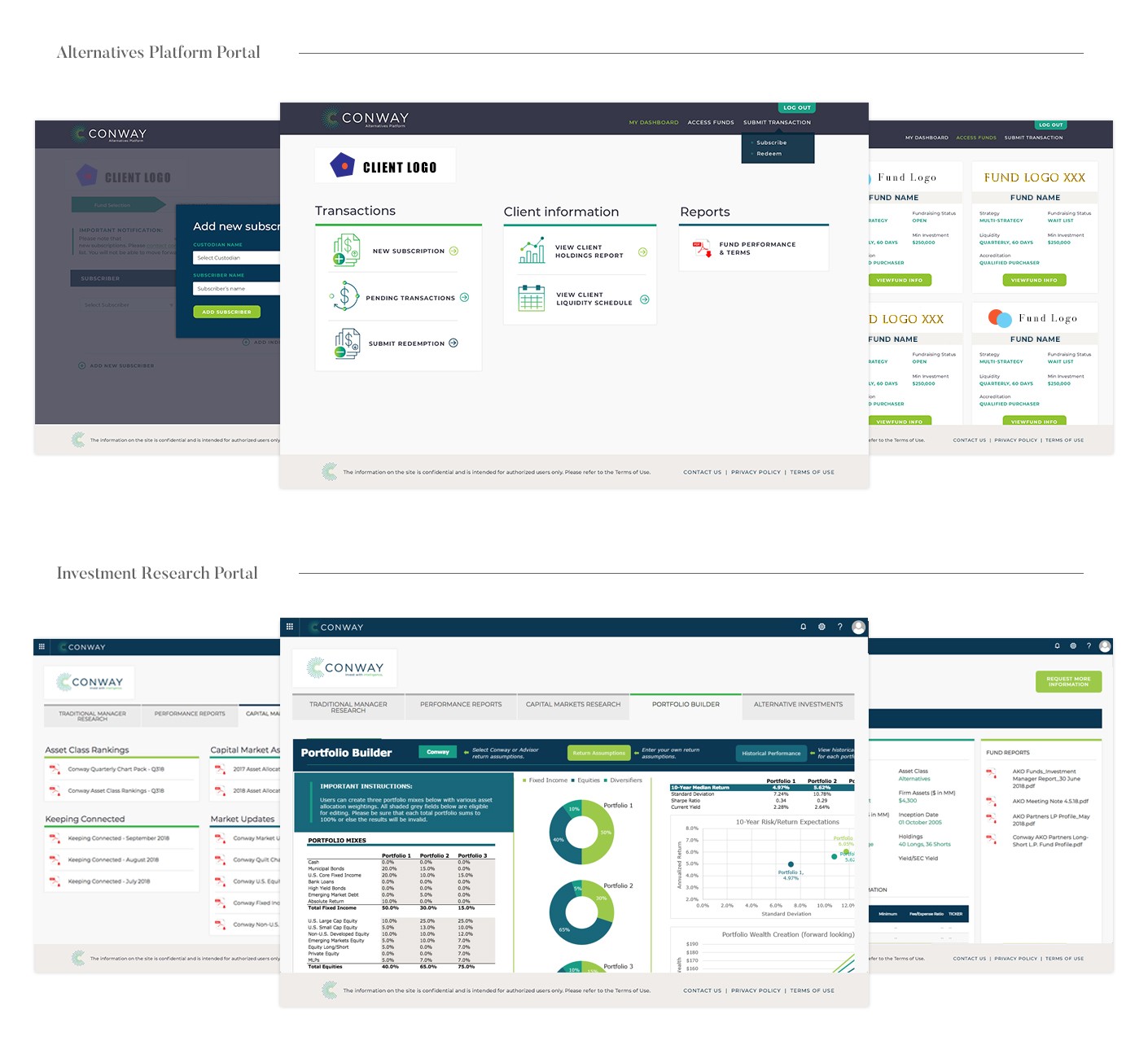 Collateral
Our overall work as a marketing agency has taught us that good brands create connection at every touchpoint–no matter how small. This idea is true for all types of businesses, including financial services marketing. That in mind, we created a full suite of business collateral for Conway: business cards, folders, letterhead, sales presentation decks, client report document templates and so much more. Together, these pieces reinforce Conway's identity and strengthen its message of intelligent investment solutions.