The Show-Me Institute
The Show-Me Institute believes positive growth in Missouri school systems starts with clarity. The institute aims to build public awareness around the performance of school districts and create an education system focused on higher standards, equity and accountability.
Role
Website Design
Website Development
Data Visualization
Industry
Political Think Tank
Policy Advocacy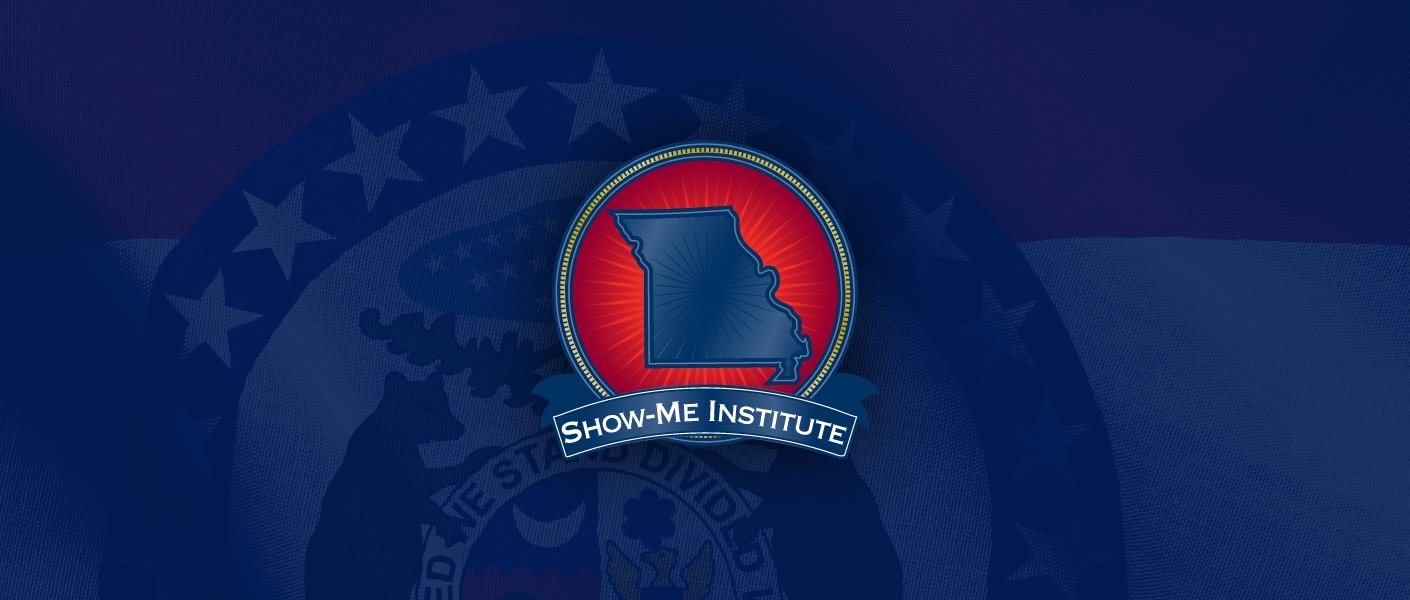 The Challenge
As the Show-Me Institute pursued progress in the education system, they created the Missouri School Rankings project to motivate reform. Their goal was to make student performance data more transparent by providing parents, policymakers, educators, journalists and taxpayers with easy-to-understand information about Missouri school districts. They had powerful figures — they just needed a platform.

Data Visualization
Paradigm partnered with the Show-Me Institute to transform numbers and statistics into something more palatable. Our team took information from the Missouri Department of Elementary and Secondary Education to create a dynamic interactive map for the think tank. This web application features a state map that visualizes data representing public school districts' statewide rankings.
Using color coding, our team made it easy to quickly reference top-performing schools in a given area versus low-performing ones. The grades for each subject are also color-coded so viewers may quickly identify areas that schools can improve. The stark contrasts of red versus greens provide motivation to explore the performance gap between schools and ultimately address it.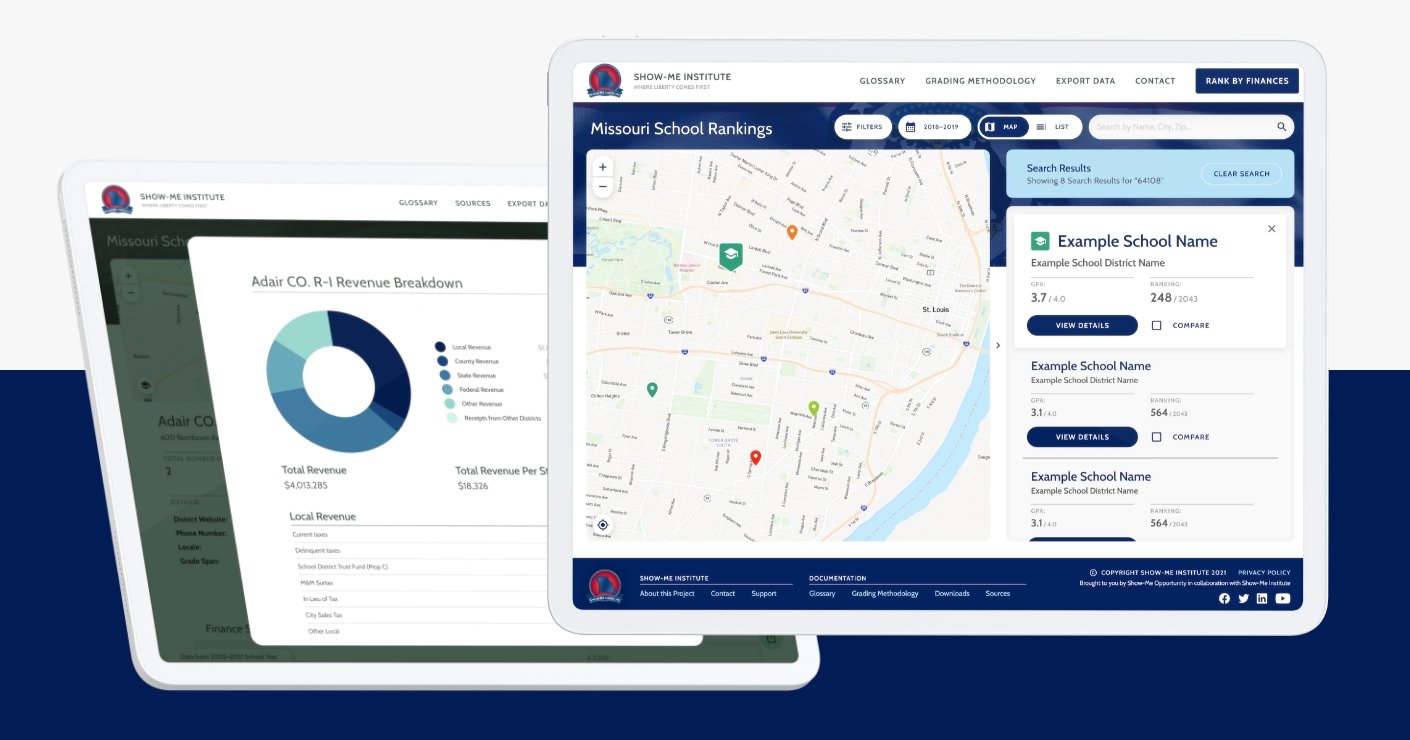 We ensured the Missouri School Rankings project page was efficient and engaging for all who visited. Users have opportunities to customize their experience through zooming, lists and filters detailing important school district data. Paradigm provided map toggling options including:
Individual schools versus school districts
School districts versus legislative districts
Map view versus list view
Academic year information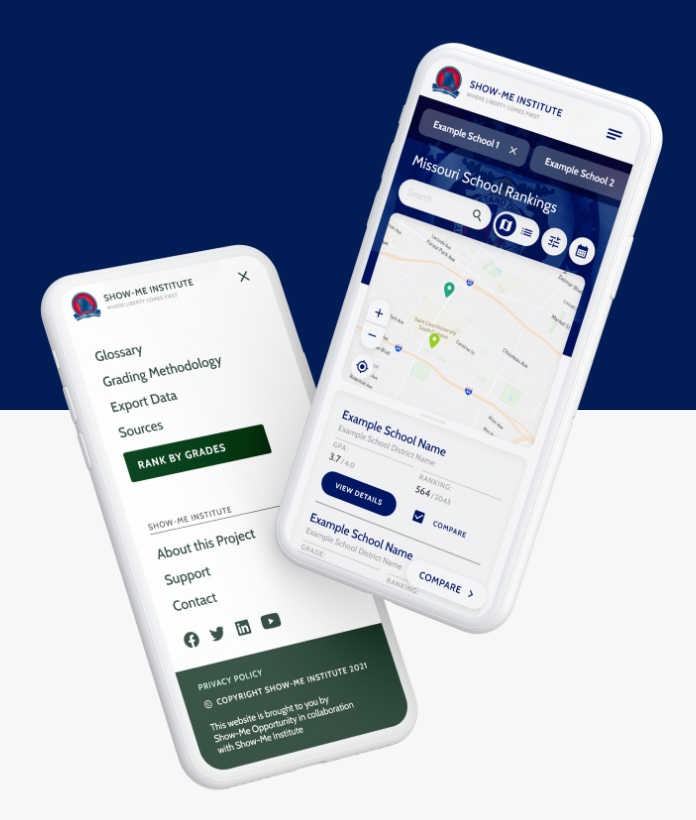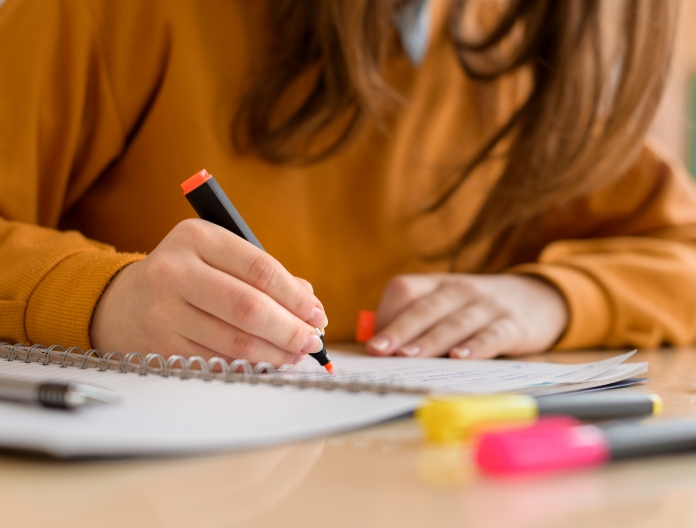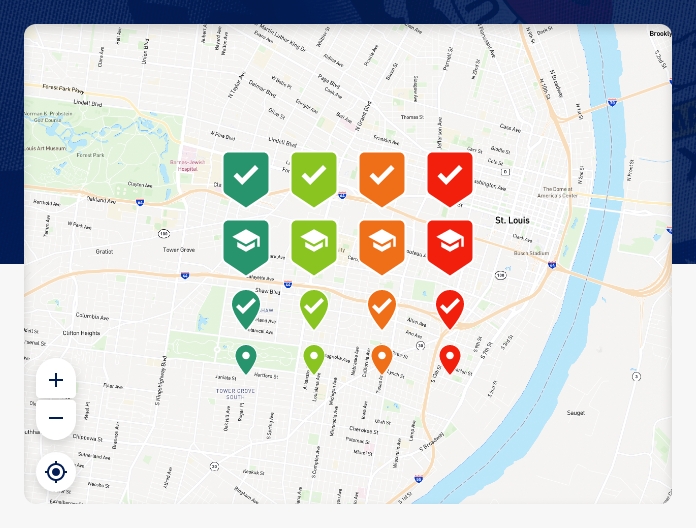 Application Build
Our team utilized web applications such as Ruby on the Rails and GeoJSON to create an advanced yet easy-to-use platform. Multi-layer applications run smoothly together without manual interference, ensuring the webpage loads quickly and accurately. GeoJSON was particularly useful in interpreting geospatial data into a simple, geographically accurate map.
Our team built the page to funnel data through various pop-ups and linked-out pages. As a result, location markers for each school are interactive. Each user can click on a marker to receive the school district name, ranking and average school GPA in addition to navigating to a new page that outlines information about the annual funding, average incomes and more.