The Ultimate Blogging Guide for Busy Business Owners
09.26.17
Earlier in the year, we talked through a few strategies for identifying strong blog topics. For many businesses, though, the first challenge is simply setting up a blog. Some business owners don't see the value of a blog, and those that do often don't know where to begin. Here are some of the most common questions we get from busy business owners as we help them build a winning blog strategy.
Why should I blog?
The value of blogging really shines when you consider how today's consumers make purchasing decisions. Consumers' perceptions of your business are just as important as the products or services you have to offer. People want to shop with businesses that are credible and reliable. Your blog is an excellent place to establish both by posting articles and insights that help your customers and clients. As a bonus, regular blog updates boost your company's ranking in organic search marketing.
What should I blog about?
This is where many business owners struggle. Writing about topics your audience cares about is challenging, but it's far from impossible. Below are a few types of blog posts that perform well:
Utility Articles That Solve Problems
In today's search engine era, people find answers to many of their problems with just a few keystrokes. By writing helpful blog topics that address your customers' common issues, you increase the odds that someone stumbles upon your article during their next search query. If they find your article helpful, they're far more likely to keep you in mind when they go to purchase.
For example, let's say you're a human resources consulting firm working with small- to medium-sized businesses. Paul is the owner of a small auditing firm and has questions about how to best train his new talent. He uses a search engine to find a solution and comes across your blog article titled, "The Best Way to Onboard New Talent in 2017". Not only is he impressed with advice, but he also subscribes to an eNewsletter form to learn more from your firm.
Numbered Lists
You see these lists on several different websites—and for good reason. Articles such as, "Top 6 Ways to Learn HTML Fast," "11 Things You Should Ask Before Buying a New Phone," "Best Tips for Selling Snake Oil." The list goes on and on. Not only are they quick, easy reads for your audience, but they also rank highly on search engines.
Stephanie is losing some of her best ad sales talent to a competing agency. She wants to make changes in her firm to better retain these valuable salespeople. In searching the web, she finds your article titled, "4 Ways to Improve Salesperson Retention". Inspired, she begins to implement these strategies, and gives your firm a call for additional advice.
Thought Leadership
Your blog also generates interest by promoting relevant news and trends within your industry. This is a great way to show your audience that you're engaged with what's going on and easily answers any questions they may have. This also establishes your brand as a thought leader in the industry, which is an invaluable title to obtain.
Rick, another HR consulting firm owner, is looking for innovative advice on professional and leadership management. He finds your blog series, "Innovation in HR" and is hooked. He posts your articles to his favorite HR community website, and even links to your work on his social media accounts. Just like that–you've extended your brand's reach and established yourself as a leader in innovation in the industry.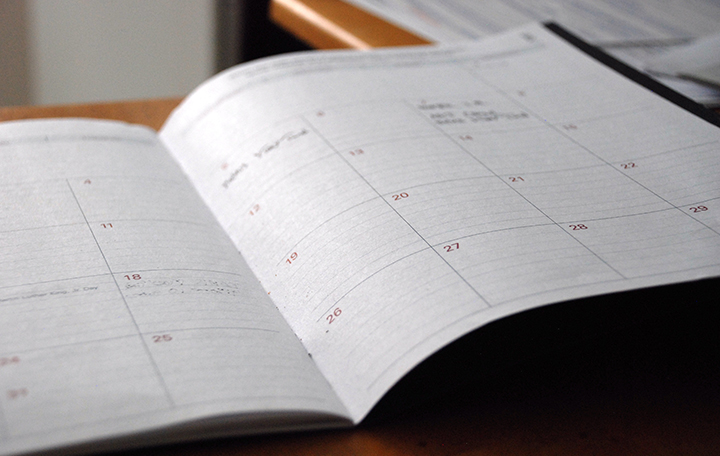 When do I need to write?
Sitting down to write a blog may seem a lot like writing a term paper. Combined with the pressures of running a successful business, this only adds one more task to your workload. Our rule of thumb: write what seems reasonable and sustainable, whether that's once a month or 2-3 times a week. It's better to publish fewer posts consistently than to publish lots of posts sporadically. For many businesses, a successful blog is updated anywhere from three to seven times per month.
The most important part of posting articles is to simply post them. Follow through.
The easiest way to do this is to establish an editorial calendar that you hold yourself to each week, month, or quarter. Structure your posts to fall in line with key dates in this calendar. Use it to post seasonal articles, end of the year stories, latest news, and all of the rest of your blog content for that month. This ensures you always have a content plan. A little planning will go a long way when it comes to publishing articles.
If you're struggling to find time to blog, let's talk about it. Our copywriting team will work with you to make sure you're getting quality content out the door with consistent frequency. See the link at the bottom of this article to get started.
How do I get started?
For some business owners, sitting down to write about their industry is a breeze. For others, it's a nightmare. Regardless of how you feel about blogging, the most difficult part is getting started. Use the items below as a checklist as you begin writing.
Plan Ahead. Setup an editorial calendar and have a firm idea of what you want to cover and why it's important to your customers.
Make time. If you're interrupted with meetings or calls when writing your blog, you're far less likely to finish it. Set aside at least an hour or two to make sure you will finish your blog.
Write a killer headline. If your headline grabs attention, people are far more likely to click it from search engines, social media or wherever they find you.
Organize your thoughts. Try to break up your post into different sections labelled with sub-headlines. This makes it easier for readers to skim your article if they're short on time.
Include a call-to-action. Once someone reads your blog, where should they go next? Consider linking to a product page or contact form at the end of your posts.
How do I ask for help?
It's one thing to read all these blogging strategies and another to actually implement them. If you're struggling to make time for blogging, give us a call. Let's talk through your pain points and get you started on a content strategy that makes sense for your business. Our professional copywriters will develop your company into a thought leader within your industry through timely content that engages your readers.