Children's Factory's New Website | Anything But Child's Play
08.15.16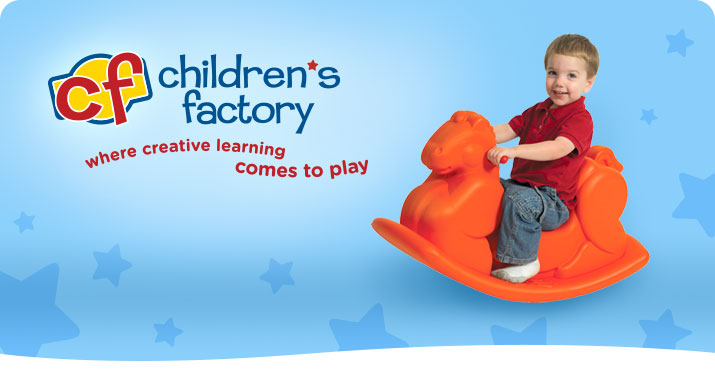 If there's one thing that we've learned through working with one of our most imaginative clients, Children's Factory, it's that creativity begins at an early age. We became well acquainted with the locally-based educational product manufacturer and learned a great deal about their company that provides class and playrooms around the world with educational products, and were able to learn their businesses strengths, as well as their desired areas of improvement.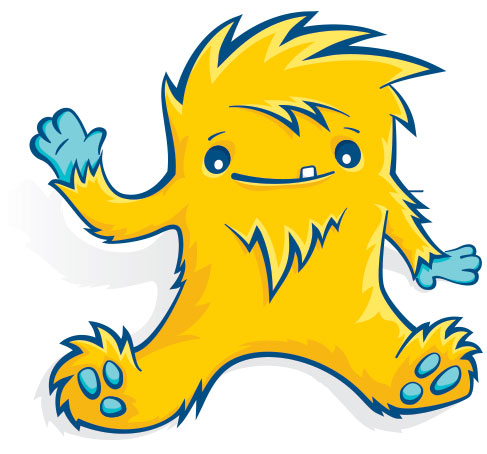 Starting with baby steps, we were first given the out-of-the-box assignment of designing and bringing to life a little monster! Through this burgeoning partnership, we learned much more about Children's Factory's mission, values, and goals for re-establishing their modernized mark, not just in St. Louis – but across the United States and internationally.
Recently, we launched Children's Factory's new website – which took an entire product inventory and enhanced how site visitors engage with the products and with the Children's Factory brand. Taking the necessary steps to create a site that would deliver a practical and inviting experience to varying demographics – from distributors to teachers, meant that we would need to study not just the company, but also become familiar with the products.

The Challenge: Merging and Modernizing Quantity and Quality
Challenged with strategic problem solving for the best ways to enhance user experience and appeal to a wide and variant demographics, and transforming the antiquated, former website into one that reflects the energy, passion, and light-hearted innovation that Children's Factory has for fostering early education and creativity in kids around the world, were an opportunity we were excited to tackle head on.
With such a wide offering of products, and many different parties to appeal to, we realized we had three primary objectives to meet:
Outline a streamlined architecture that encompasses Children's Factory's wide range of products, while not overwhelming the user.
Design a website that is as appealing to users as it is easy to use.
Create a tool that is easy to update and maintain, and with future growth in mind.
The Solution: Pairing Playfully Modern Aesthetic with Enhanced Functionality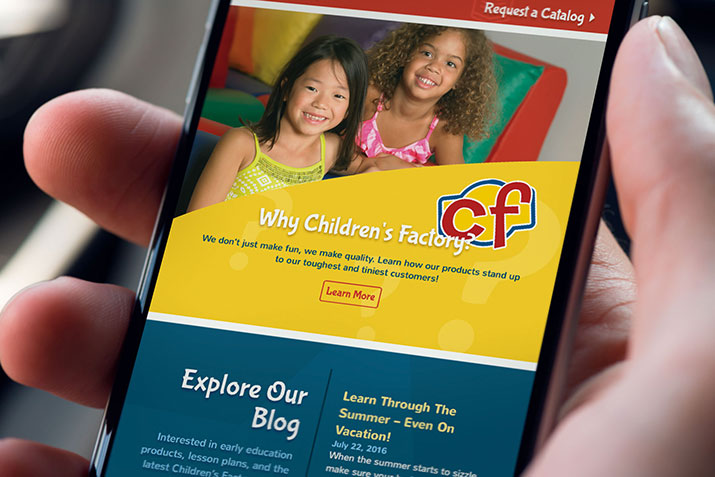 Design
The new site was designed to function far beyond just being aesthetically pleasing. The usability was greatly increased with customer-focused product filtering to simple searches, allowing potential buyers to discover what they wanted with ease, eliminating frustration.
Our solution to this design challenge was to capture Children's Factory's long history of quality and craftsmanship while displaying the fun, child-like nature of the products. Updating the primary-oriented color palette and adding energetic fonts was just the beginning. Our designer played with whimsical interface elements and inviting graphics, transforming the website into an exciting, useful platform used to conduct business and promote products to dealers around the world.
Development
Trimming the products catalog taxonomy down to the essential terms and re-organizing the collection was step one in creating the streamlined site architecture that would ultimately aid in product categorization and data import process in the future. Product groupings are now easier to navigate and filter controls allow for efficiently browsing the entire catalog for site administrators and visitors alike.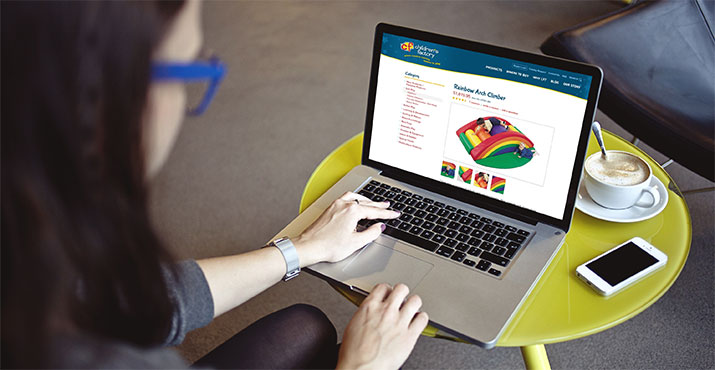 Our data science efforts helped shape the website and the business logic, and played a critical role in shaping the future data science plans for Children's Factory. Moving from a print catalog to a digital catalog is a detailed process, and has been thoughtfully outlined and illustrated for future growth and sales potential
Technology
Keeping the cross-categorical data consistent was essential to the import process. The old website was stylizing the data on the front end and inconsistencies were still causing issues during importing. We put a plan in action to standardize the data set we received from the old database and enable a simple import into WordPress.
To aid in rectifying an inconsistent dataset, we worked with Children's Factory to separate each part in the import process. Working with a large amount of data, it was imperative that we not use any additional time to re-import the data when we found an inconsistency to keep the project on a timely trajectory, so we created a separate process to import the categories names before importing the products.
WooCommerce is the WordPress plugin we used to handle all the products and style in a catalog format. Although it has no inherent way to import data, we created a method that data could be imported with the default WordPress importer. Then we ran a script to import and piece back together the data from WooCommerce so that products had the appropriate categories and corresponding prices.
The Results: A light-hearted take on UX & Functionality
The Paradigm Team was excited to take on the challenges that accompanied designing and developing a site that needed to equally solve for ease of usability and navigation with the complexities of retail product categorization and importation. Collaborating with Children's Factory and learning their past roadblocks, present wants, and future needs and goals helped us plan for a website that would modernize the educational tradition and create a foundation for future growth and expansion.
On the new site, visitors easily navigate a fresh, intuitive layout, review related products, and engage with the brand on a deeper level through the blog and lesson plans. The updated look and feel are not just advantageous to the visitors, but also for the Children's Factory team, who are now able to make timely updates to the site. Through the WordPress CMS, they are empowered to produce original, informative content pages and continue to establish themselves as education industry thought leaders.