A Contemporary Website for a Legal Advocate
03.14.17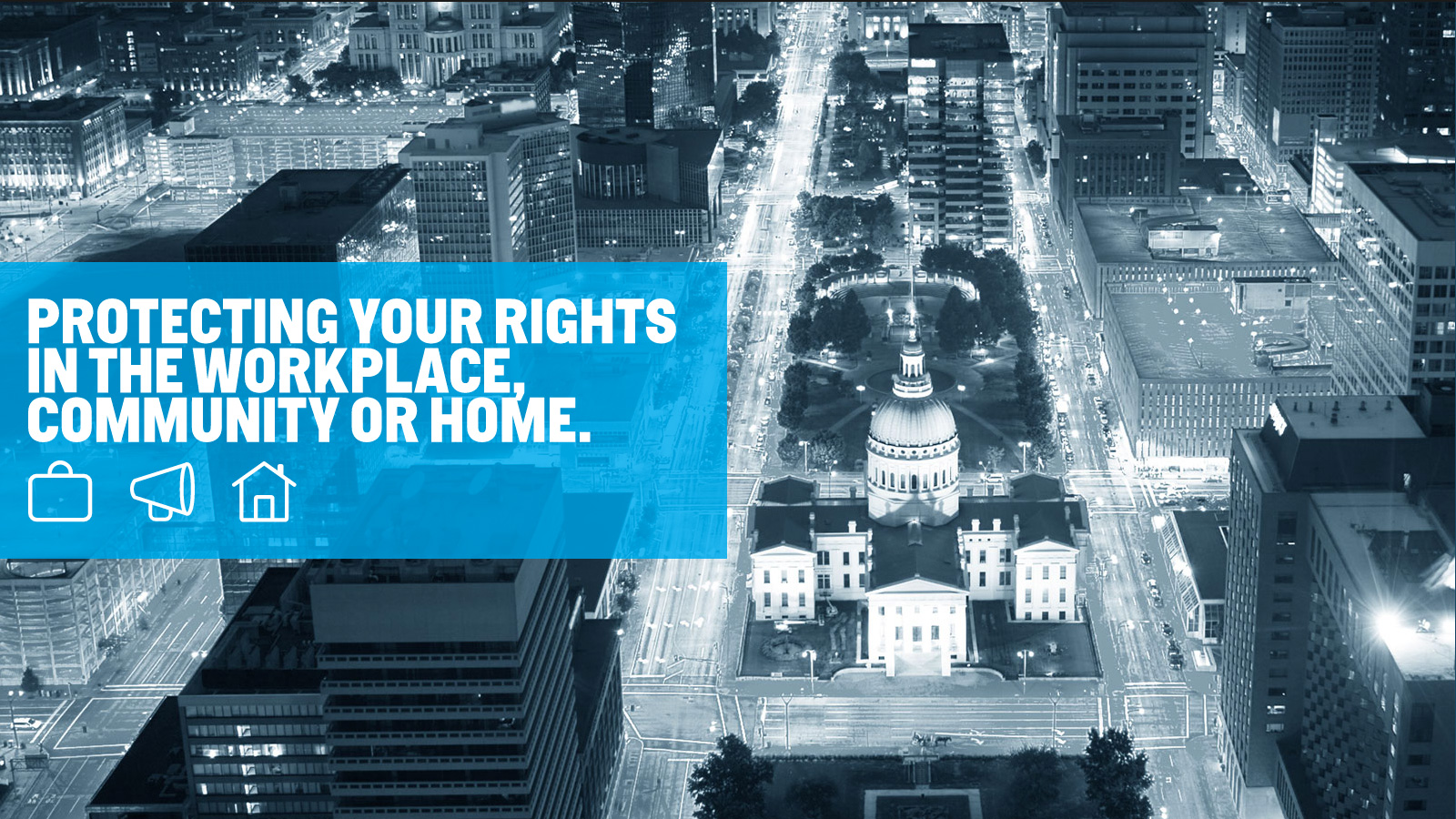 What do you think of when you hear the word lawyer? Conservative, lofty, complex, even a little staid. We believe in the good work lawyers do for their clients and strive to position them as heroes within their profession.
With that in mind, we were excited to meet Jill Silverstein, learn about her practice, and begin work on her new website. A sole practitioner lawyer, Jill specializes in employment discrimination, family law, and civil rights issues. Jill often finds her clients seeking an empathetic and approachable partner in these difficult cases – and that's just how she runs her practice in the St. Louis area.
The Charge
Paradigm was tasked with creating a new, mobile responsive website for Jill Silverstein's independent legal practice. Going against the grain, Jill aimed to steer clear of the buttoned-up image that most other attorneys give. She also wanted to use sleek, city scape imagery, instead of the generic gavel images that you see on so many lawyers' websites.
Although not stuffy like some of her competitors' sites, Jill's website draws interest from both fellow attorneys – who may refer new clients – and laypeople seeking legal counsel. To speak towards these two distinct audiences, site content needed to be professional, yet easy-to-read.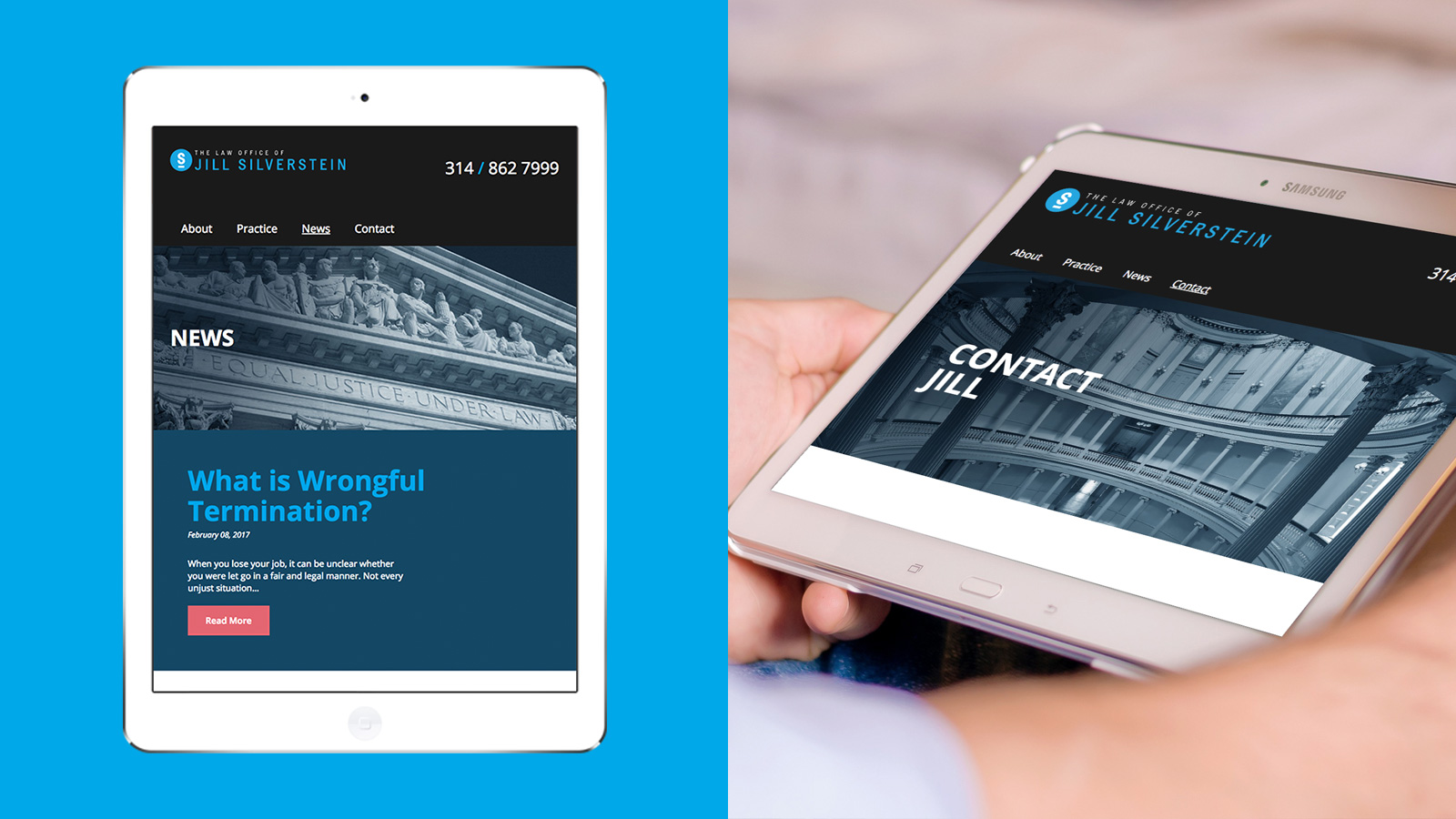 Building Her Case
A combination of modern and meaningful images with unique color treatment, smart use of large text, custom technological elements, and a personable yet professional content strategy make up the new direction for the Jill Silverstein website.
Creative
Using monochromatic images, treated with a blue tint, Jill Silverstein's website has a distinct, contemporary look. To contrast the deep blue and highlight areas of the site, there are pops of brighter aqua and salmon pink.
The chosen photography differs from the standard gavel and scale images that appear so often on legal websites to signify justice. Instead, on Jill Silverstein's website, we chose images with deeper meaning. To represent Jill's practice areas, we chose a photo the Edmund Pettus Bridge in Selma, Alabama for its significance in the Civil Rights Movement. Feeling close ties to civil rights history, Jill has dedicated her legal practice to protecting those who have been treated wrongfully or discriminated against both at work and in their communities.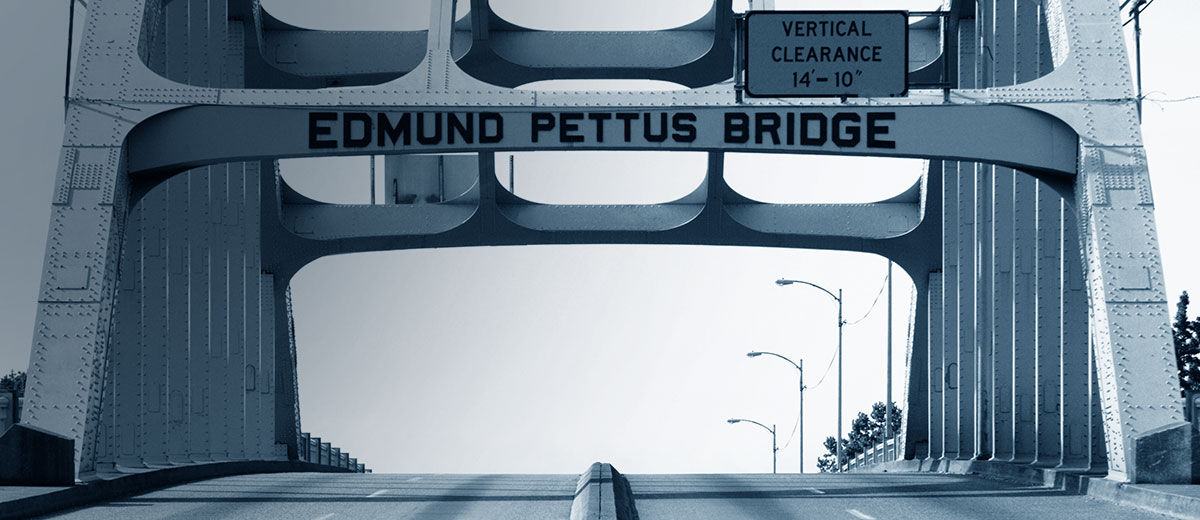 Technology
Jill Silverstein's new website is a crisp, clean, and quick loading site. The lightweight, responsive code makes it easy to view on any device, even under a questionable internet connection.
Using WordPress as Jill's new CMS, she will be able to easily update her site as her legal practice develops and grows. Expanding into new practice areas – or even adding a partner – will be a smooth transition, handled using the custom templates built just for Jill Silverstein.
Being a legal site, special disclaimers were put into place to help protect email privacy. It is not advised to share confidential legal information via a nonsecure method, like email. On the new site, when a user clicks to email Jill Silverstein, a popup disclaimer will outline that the communication does not establish an attorney-client relationship, and advises against sharing any sensitive information over email.
Content Strategy
The content throughout Jill Silverstein's new website is informational, yet approachable. This content aims to appeal to both fellow lawyers – who may refer clients to Jill – and people searching for legal advice on their own.
Within her Practice Area content, Jill demonstrates knowledge and expertise. Discussing an overview of previous case details shows her years of experience to both her peers and prospective clients. Providing brief histories on common and relevant legal issues keeps laypeople informed of their rights.
Throughout the site, we feature personal quotes from Jill. These statements help to build trust, showing that Jill works one on one with her clients to give them the best service. This level of personal involvement and empathy is what many people are looking for when they are faced with a difficult legal situation – especially surrounding discrimination or family law, which Jill's practice specializes in.
Jill's new site also features a news blog, which will prove to be a resource that her clients will come back to again and again. Featuring helpful tips on navigating legal complexities, along with relevant case details when they can be shared, these posts will allow Jill's site to appear in organic search results, drawing in prospective clients with useful, non-sales information.

Case Closed
The Paradigm team was excited to take on this meaningful and modern legal site, and Jill Silverstein was an absolute pleasure to work with. With her new site, Jill will be able to generate new business and further develop her sole practitioner legal practice in St. Louis and throughout Missouri. Now, when her peers or potential clients search for her online presence, Jill appears knowledgeable and approachable – a true partner in challenging legal cases.