The Muny
Located in the heart of Forest Park, The Muny is America's oldest and largest outdoor musical theatre, bringing lots of music (and a little bit of magic) to the people of St. Louis.
Role
Website Design
Website Development
Content Creation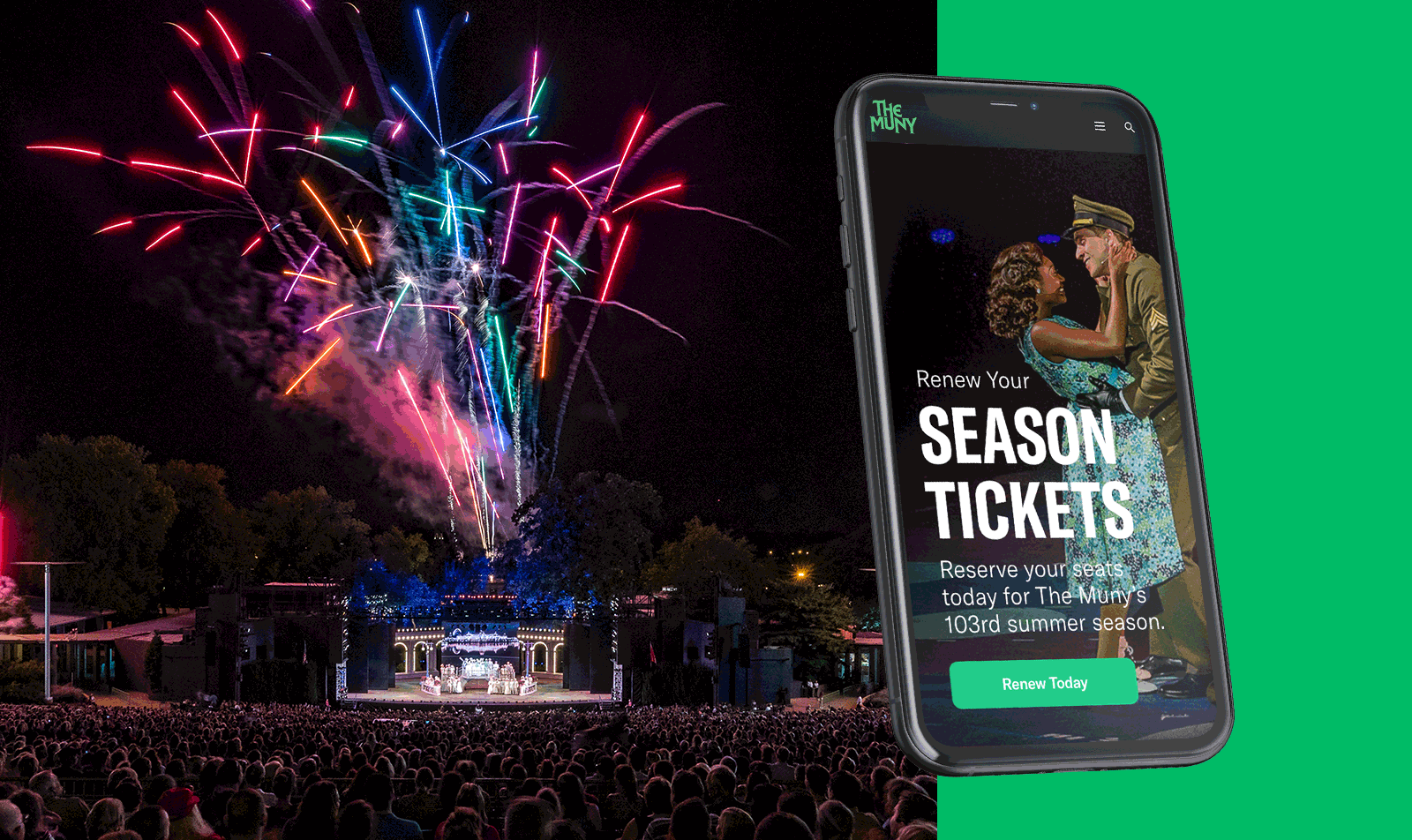 Challenge
Over more than 100 summer seasons, The Muny had become a St. Louis cultural institution. Grandparents brought grandkids. Couples met for first dates. Young children discovered lifelong passions. But despite its rich history and enduring popularity, The Muny's website fell flat at showcasing its visual splendor.
We pitched a website redesign that would capture the magic of The Muny and rejuvenate patrons' excitement for years to come.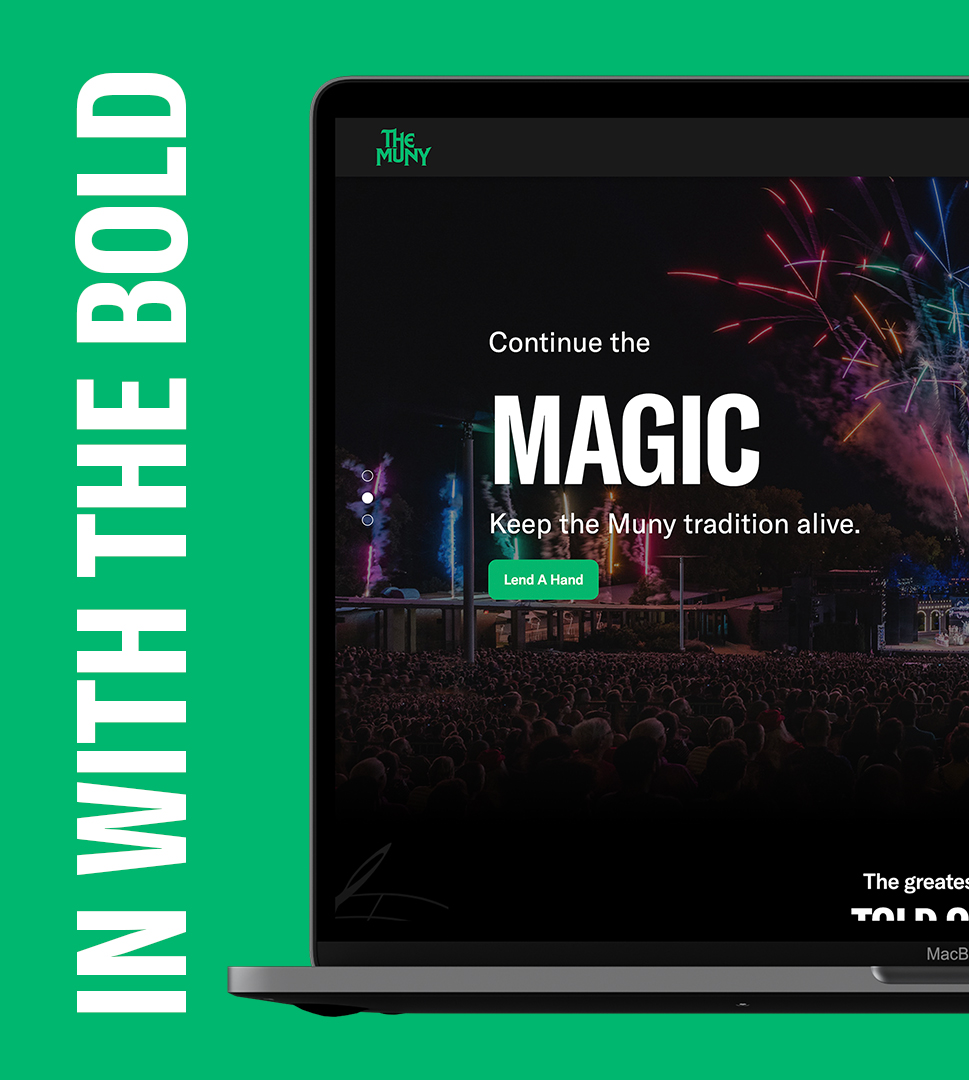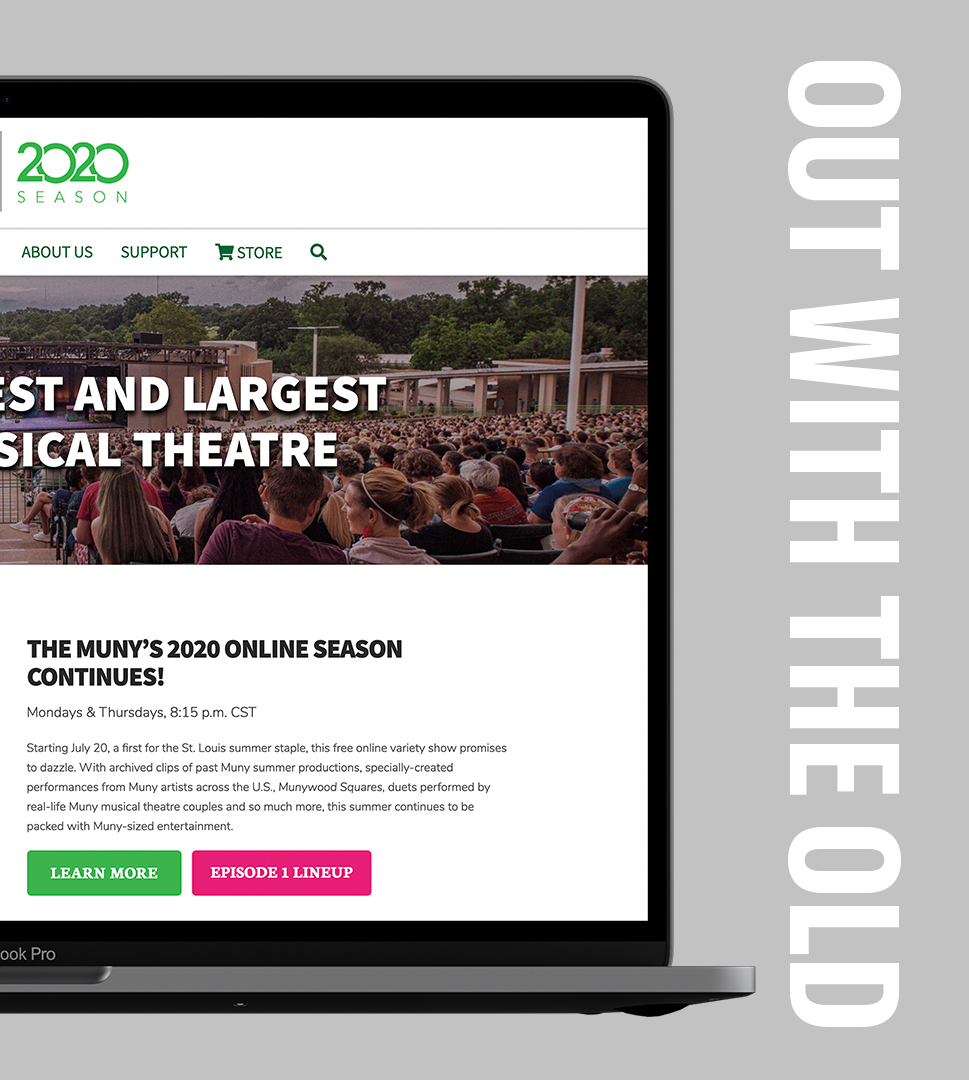 Our Approach
Web Content
The Muny is built on the belief that theatre is for everyone. So naturally, its website had to be for everyone, too. Pages are light and easy to read, with catchy headlines and clever calls to action. Theatres can often feel intimidating or uninviting to non-theatre buffs, so we used simple, friendly language to make The Muny feel open to all. 
We also added a new key page: Visit. Most people think of The Muny as part of a night out on the town, but there's enough to do to make it your whole night. This page introduces you to all kinds of food, drink and pre-show entertainment options. So be sure to get there early.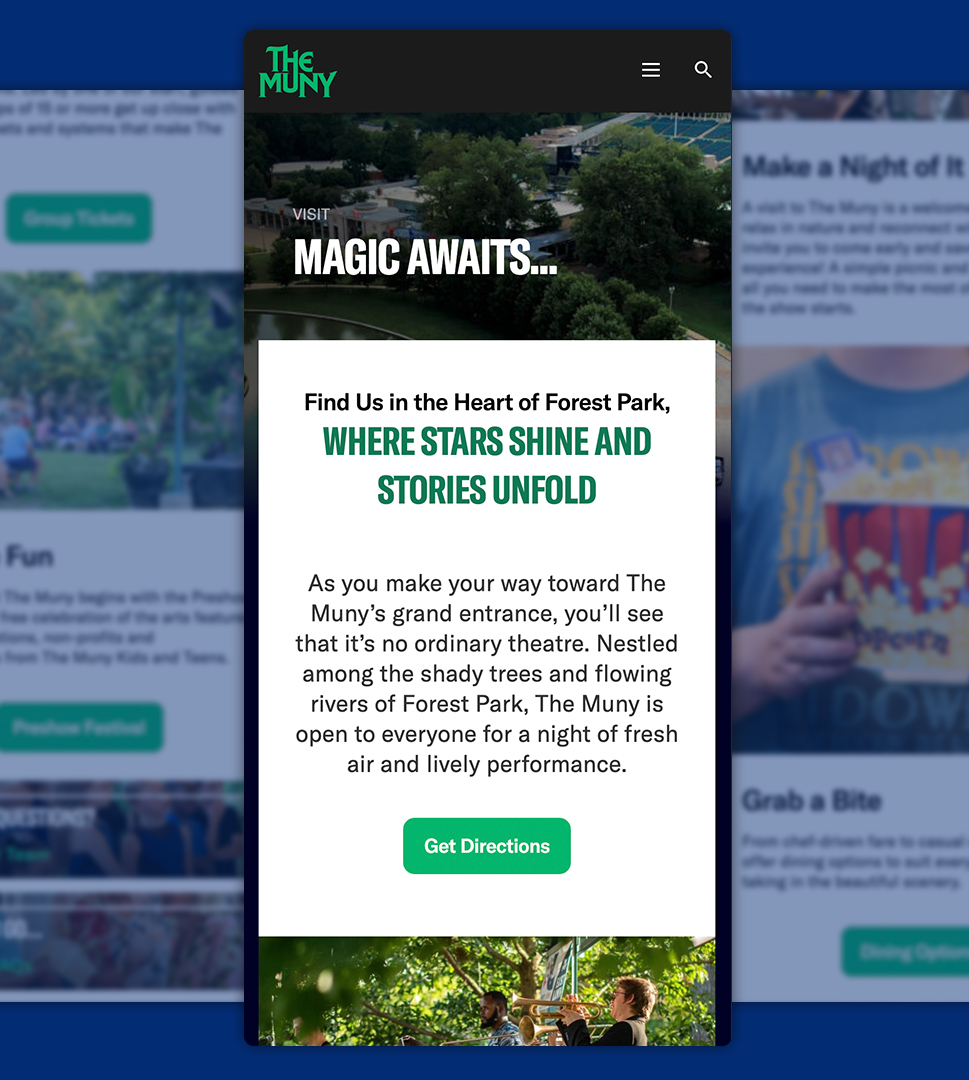 Web Design
Shows at The Muny have the same level of production you'd expect from a Broadway show. Intense choreography, beautiful set design, stunning costumes — it's all a work of art, and we wanted to bring that artistry into The Muny's website. 
We relied on The Muny's deep archive of show photography, placing it at center stage whenever possible. Choosing the right photography helped create a visual narrative of larger-than-life productions, talented casts and an enchanting night under the stars of Forest Park.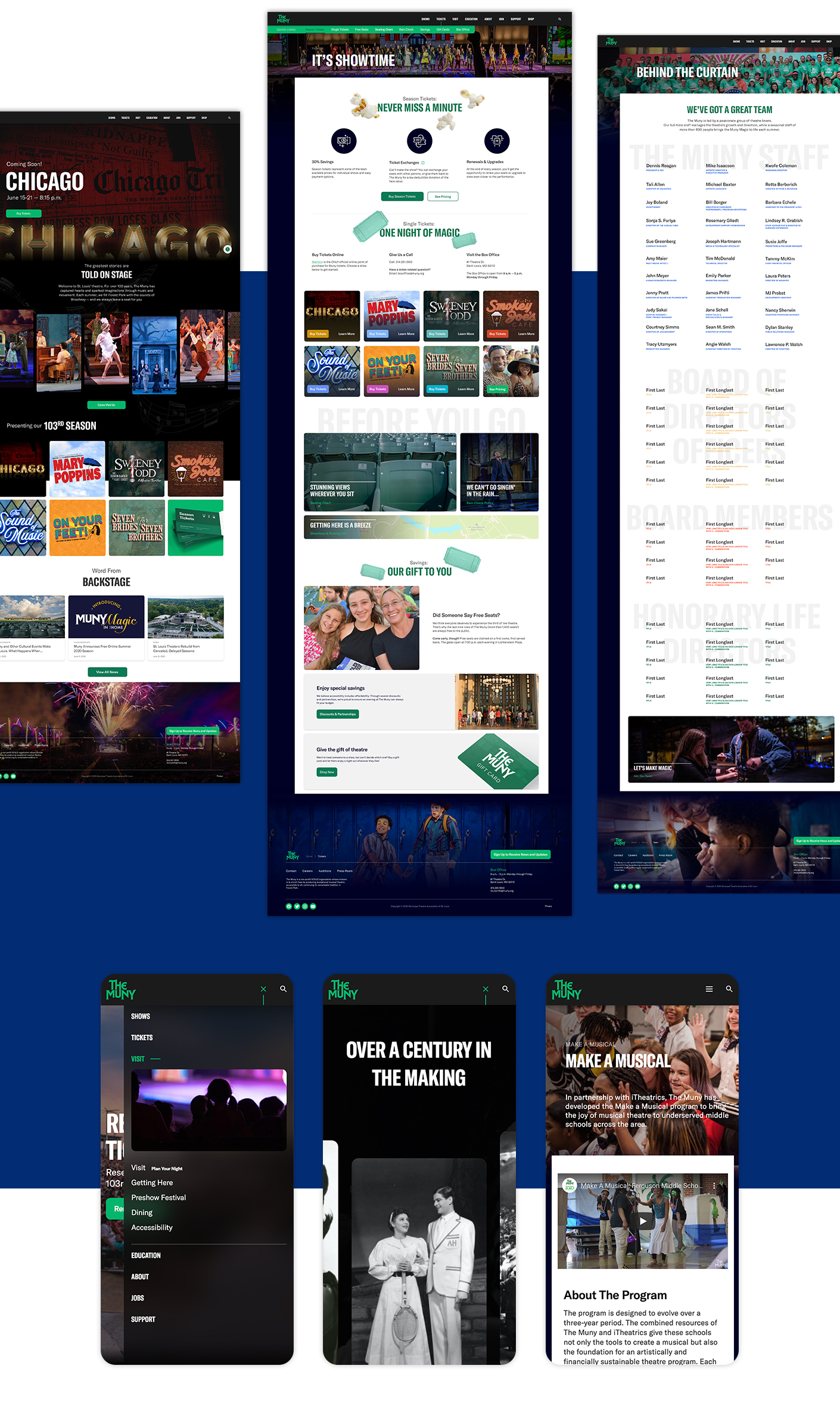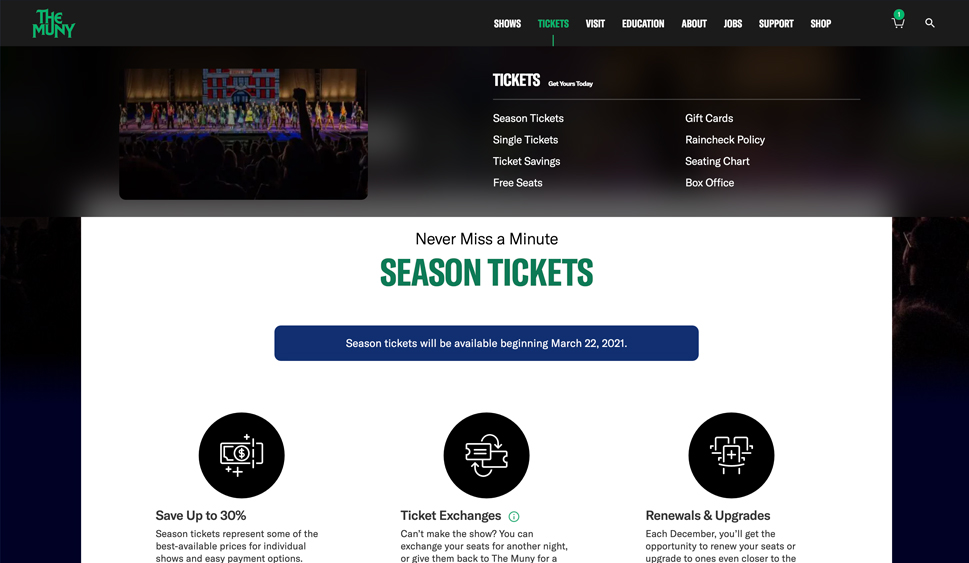 As you browse the site, animated elements create the whimsy and liveliness that you'll find in a night at The Muny. Headlines subtly pop in from the background, photos in the navigation change as you roll over pages and sliding reels accent certain pages. These subtle touches go a long way toward making the website feel as custom as a Muny production. 
Web Development
To bring The Muny's website to life, there were a few technical considerations to consider. For starters, no two seasons at The Muny are alike — so the site needed to be easily updated with new shows. It also needed to accommodate The Muny's growing education programs, which bring theatre classes to students across the community. We opted to build the site in WordPress' Gutenberg platform. This provided an intuitive, highly visual way for The Muny team to add pages and update content whenever needed. 
We also baked in e-commerce functionality for The Muny's online gift shop and donation portal. As a non-profit theatre, The Muny relies on donations to keep the magic alive for St. Louisans. We designed a donation experience that easily lets patrons choose a meaningful way to donate to their favorite theatre.