Promoting Pint-Worthy Pets with Purina
10.06.17
We've been proud to work alongside Purina PetCare for a number of years as we change perceptions on shelter pets and ask local families to #ConsiderAShelterPet. The annual campaign culminates with the Better Together Adoption Event, where Purina and local animal welfare organizations invite St. Louis to come out to Soulard Market and meet some wonderful, adoptable pets.
This year, Paradigm was tasked with leading Purina's interagency team to set the campaign's creative direction and follow it through to execution. We were so excited to work with our fellow St. Louis agencies as we directed brainstorms and helped shape this year's campaign story right from the beginning.
Partnering with UCBC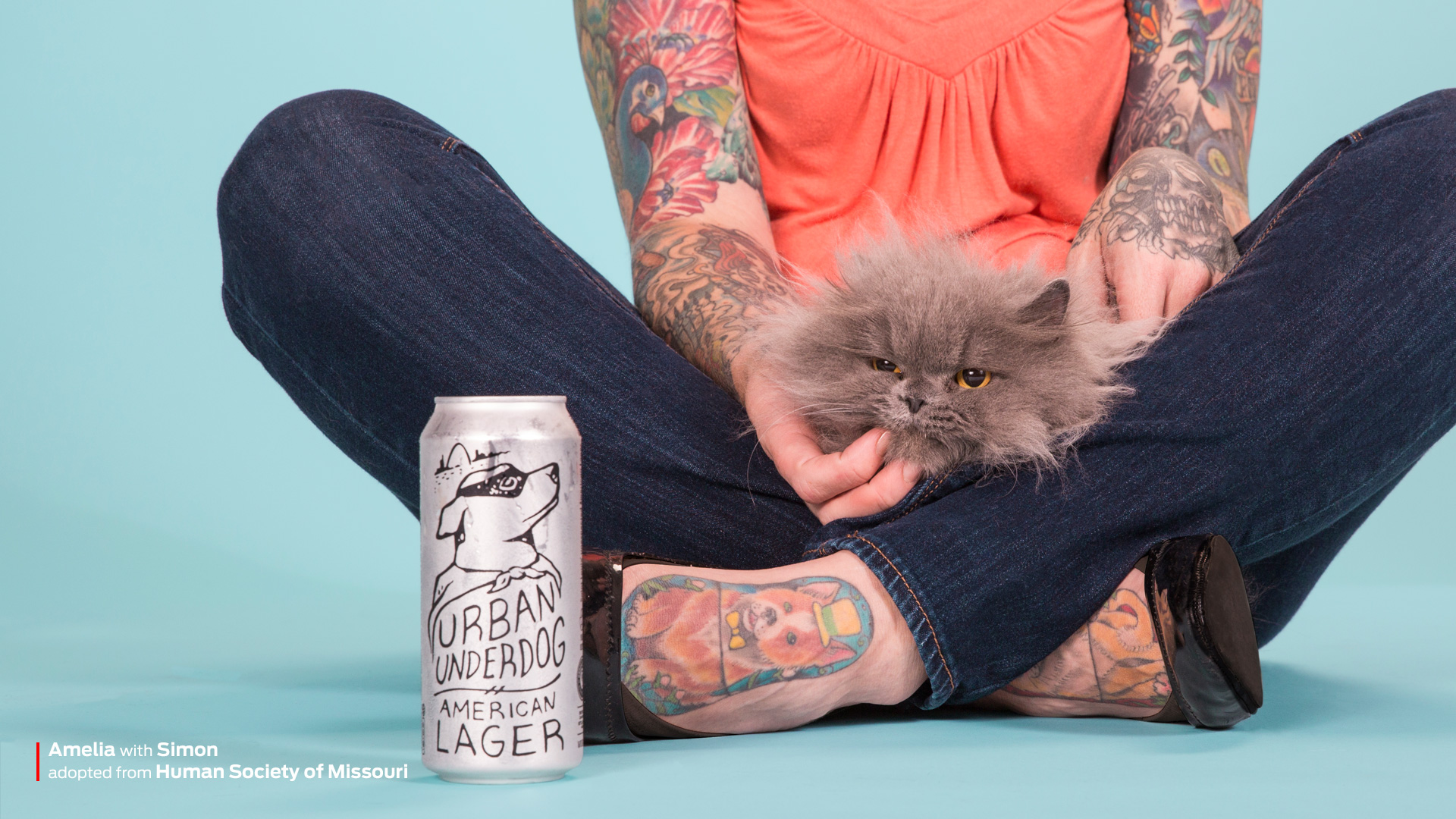 In analyzing previous campaigns, we identified an area for improvement: how should we encourage participation from people who love pets, but aren't interested in adopting at the time? Our colleagues at Byrne PR, Purina's public relations agency, identified a local, pet-loving business that was eager to partner with Purina in support of all things pets: Urban Chestnut Brewing Company (UCBC)
Since opening in 2010, Urban Chestnut has welcomed both people and their pets into its two breweries in St. Louis and held a number of events and fundraisers supporting pet welfare organizations. In conversations with Urban Chestnut, we decided there was no better way to celebrate our new partnership than by bringing its newest beer, Urban Underdog, and our "Consider a Shelter Pet" message into retailers across the metro area.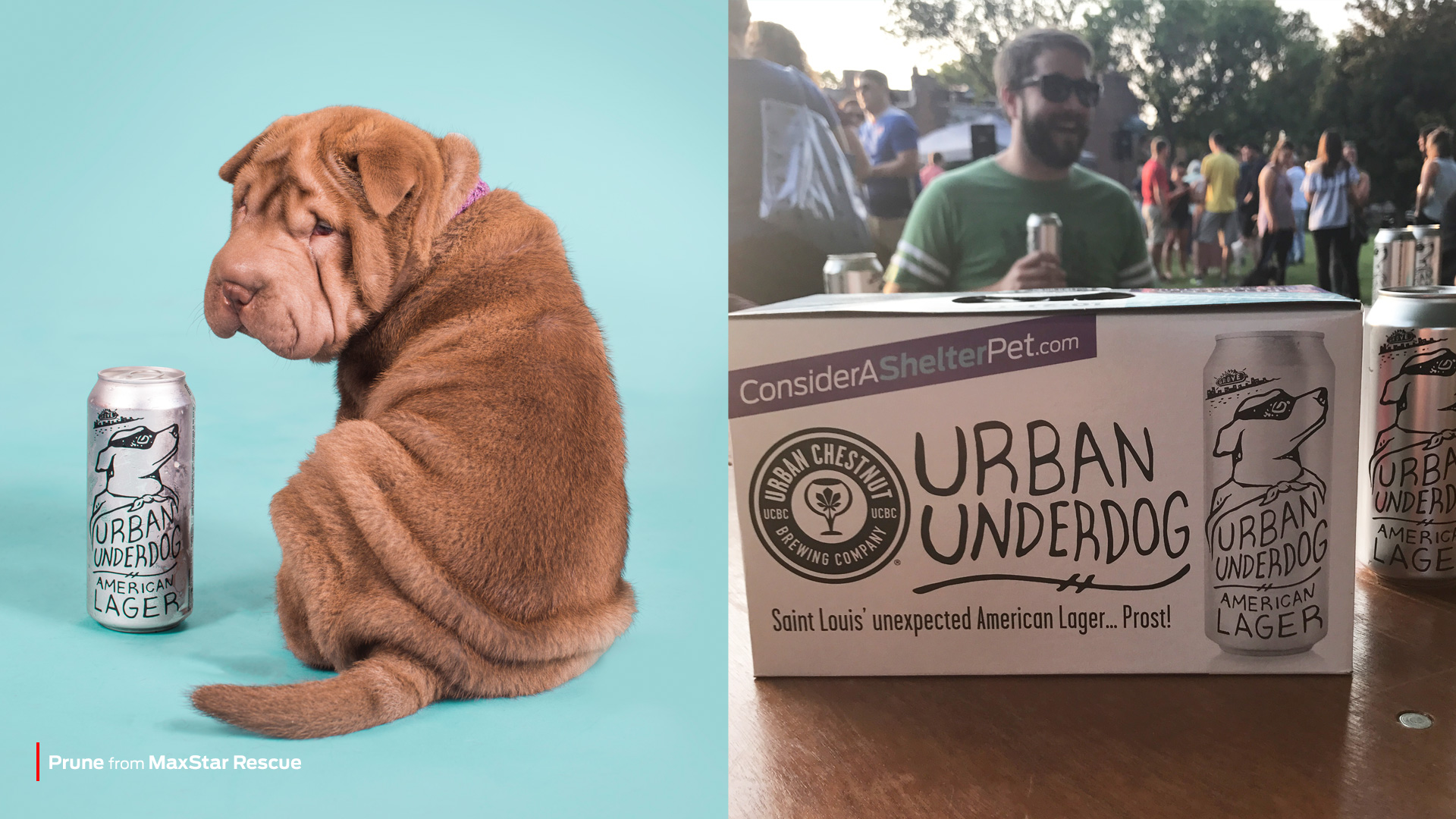 "Partnering with UCBC breathed new life into the program this year," said Ryan Capogreco, Art Director here at Paradigm. "Our campaign is locally focused with St. Louis area pets and their people, and the Urban Underdog promotion helped highlight and strengthen that across St. Louis in an organic and worthwhile way."
Art and Photography Direction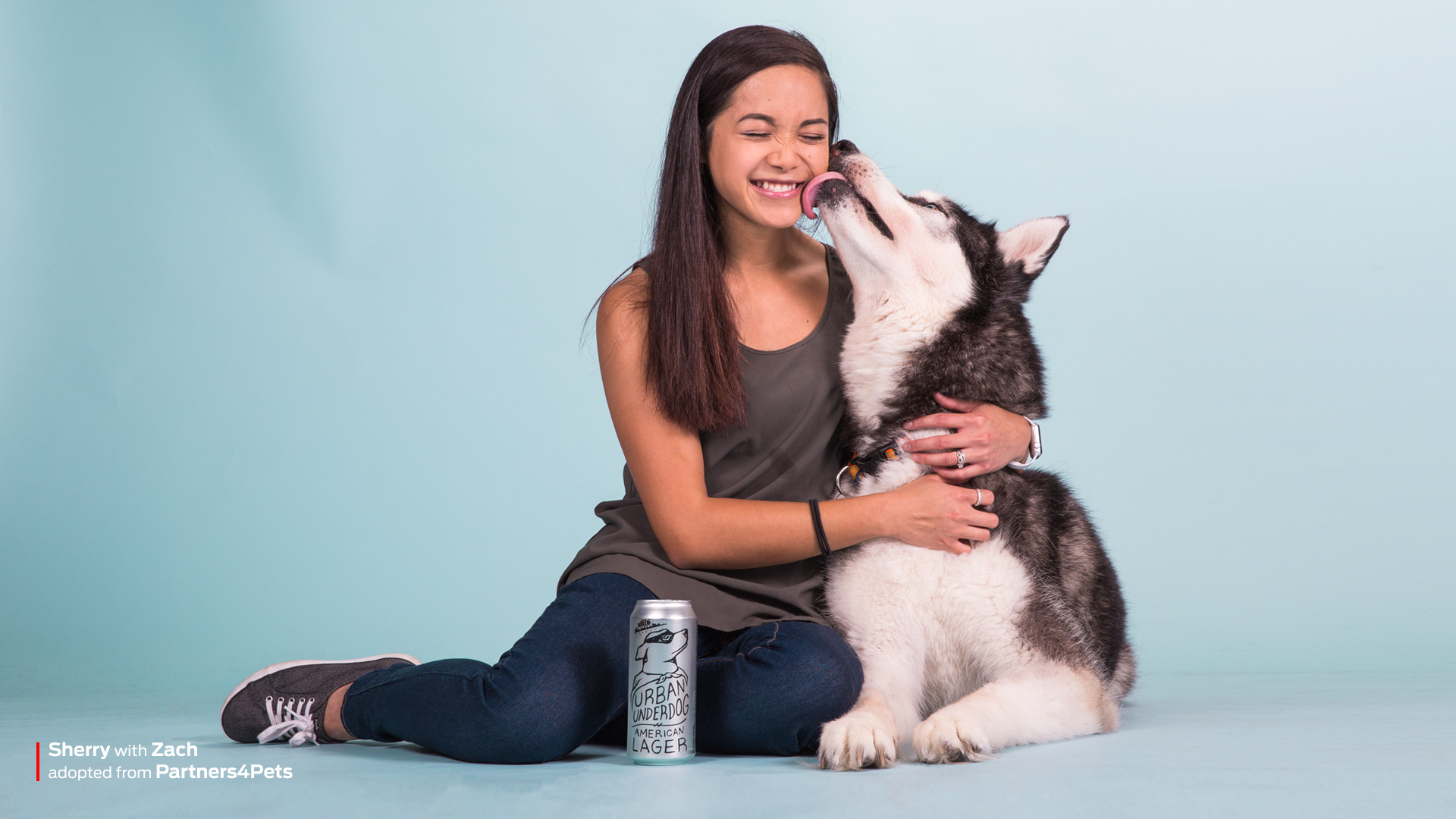 Urban Chestnut designed specially marked eight-packs of Urban Underdog featuring the campaign's branding and a special offer. For each 8-pack sold, Purina is donating $3 to the Petfinder Foundation in order to help offset adoption fees at area shelters. This gives both pet lovers and beer lovers an easy—and delicious—way to show their support for animals. Each package also features a tagline we developed for the promotion: Raise a Pint for Pets!
While developing the overall campaign's visual direction, we arranged for a photoshoot starring current shelter pets as well as former shelter pets with their new families. Once we started shooting, we knew we had a perfect opportunity to create some really interesting shots to pair with the partnership's announcement.
"Although our photoshoot was focused on local adopters, we couldn't pass the opportunity to get some shots with puppies and kittens checking out an Urban Underdog can," said Ryan. "Those shots alone were enough to melt our hearts, but we had the bonus opportunity to involve the adopters themselves. It was great to have St. Louis adopters, with their shelter pets and UCBC beer together—it just doesn't get much more St. Louis than that."
We think the photos turned out great—and it certainly didn't hurt to have a few furry friends in the office for a day. This creative, along with the Raise a Pint for Pets tagline, became the heart of social posts, billboards and coasters promoting the special offer.
Media Strategy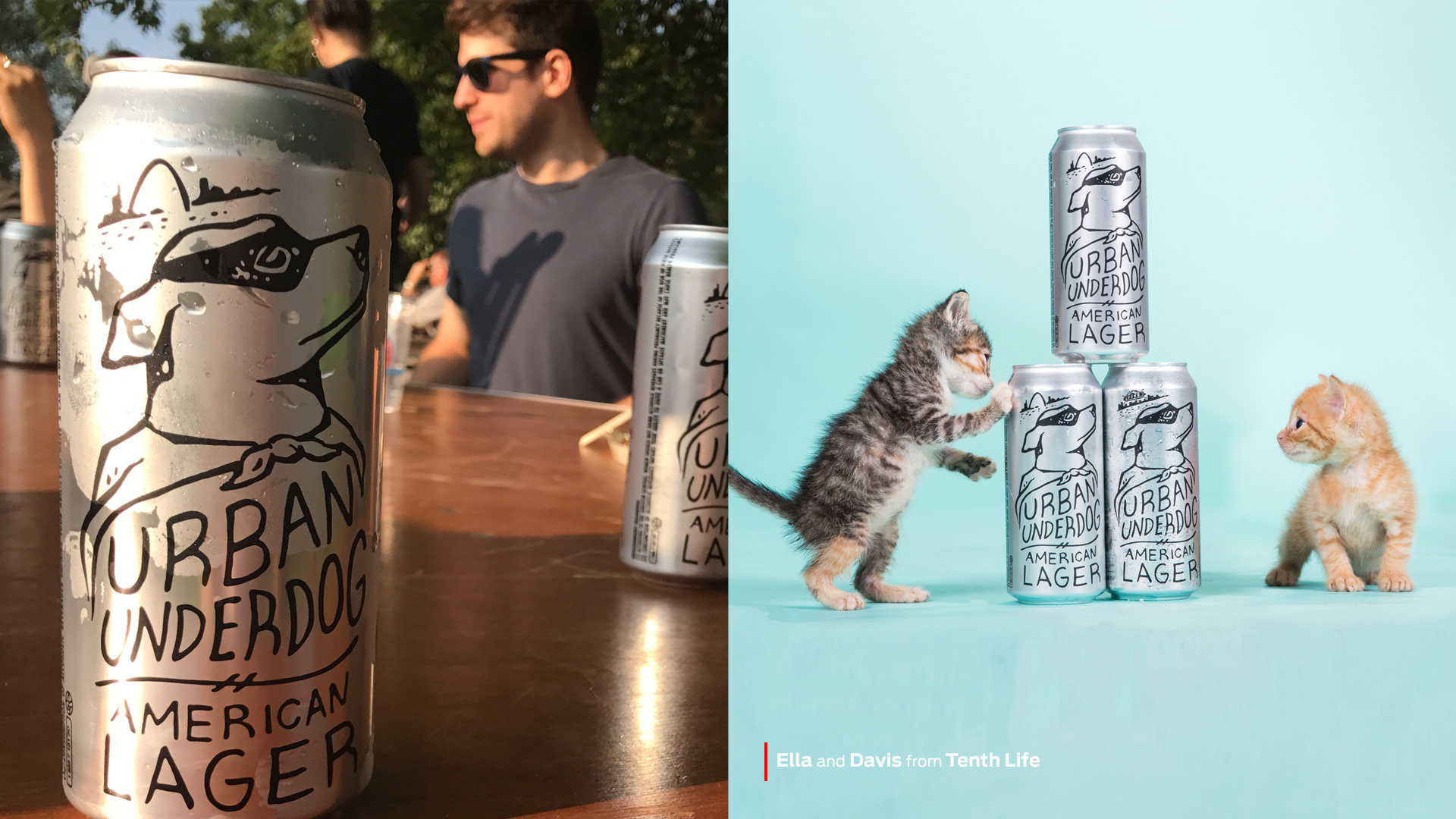 With finalized creative, we worked with our agency partners to push the word out across social and traditional media. The partnership and 8-pack promotion were covered by local news outlets, radio shows and more. We also worked with Purina's web team to create a page under ConsiderAShelterPet.com featuring all the details about Urban Chestnut's involvement in the campaign.
The partnership and launch of Urban Underdog were kicked off on Sept. 1 at Urban Chestnut's Grove Brewery & Bierhall during one of the brewery's Dog Day Friday events. As families stopped by to enjoy an evening of food and drinks with their dogs, we were thrilled to see so much excitement for a project we put so much thought and love into each year.
Urban Underdog has started popping up all over St. Louis, so check your local grocery and help us Raise a Pint for Pets! And if you're feeling like your life needs a bit more fur, mark your calendars for Oct. 21 for the Better Together Adoption Event in Soulard Market Park.