A Monumental Task: Wayfinding During the Pandemic
07.23.20
Good design responds to the world around it. And given the ongoing COVID-19 pandemic, the world has given designers a lot to respond to. One of the most interesting design challenges we're currently facing is wayfinding in a time of limited capacities and social distancing. As the Gateway Arch prepared to reopen its doors, we went to work designing a strategy to safely guide visitors through the park. Let's look at some highlights.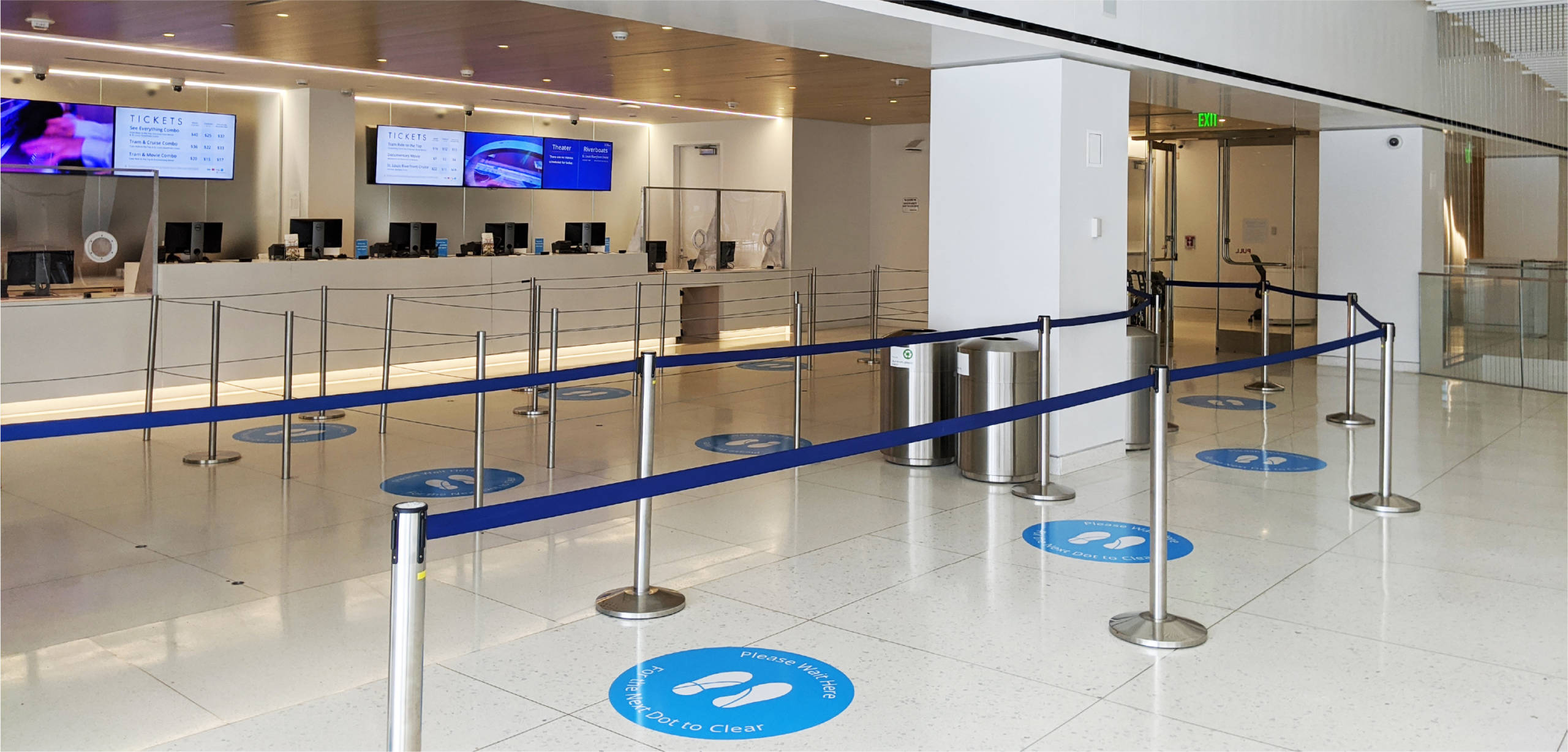 Capacity + Traffic
First and foremost, we needed to control the Arch's foot traffic and mitigate any potential for crowding. We developed a timed ticket experience where visitors would need a free reservation to enter the facility, allowing Arch staff to easily gauge capacity. We executed this experience through QR codes on select signage that would allow visitors to book tickets right from their phones.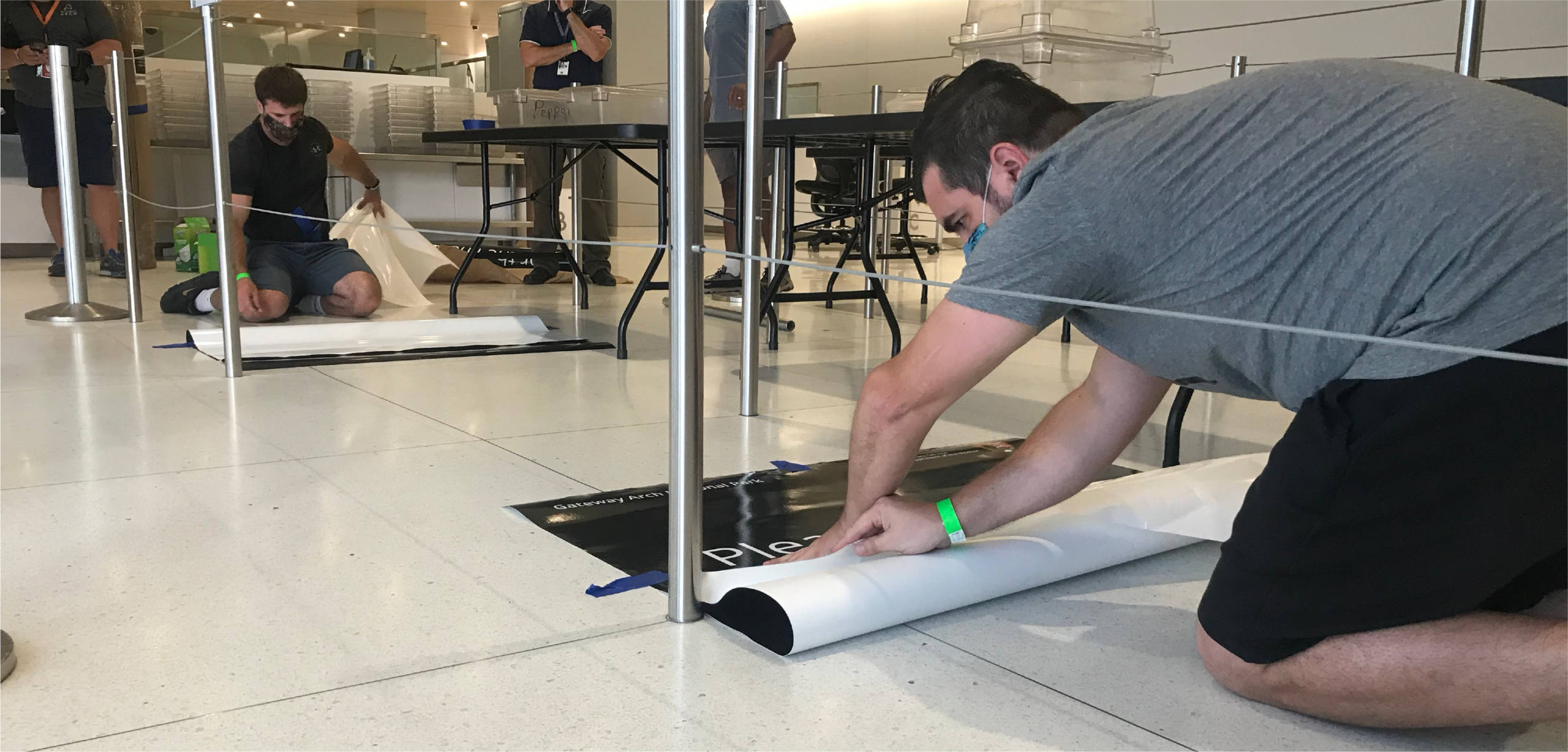 Ticket + Security
These areas presented unique challenges due to their confinement and the fact that most visitors arrive in groups. We started by designing a visitor flow that mapped out how people would navigate each space—all while maintaining safe social distance from those exiting the building or using the restrooms.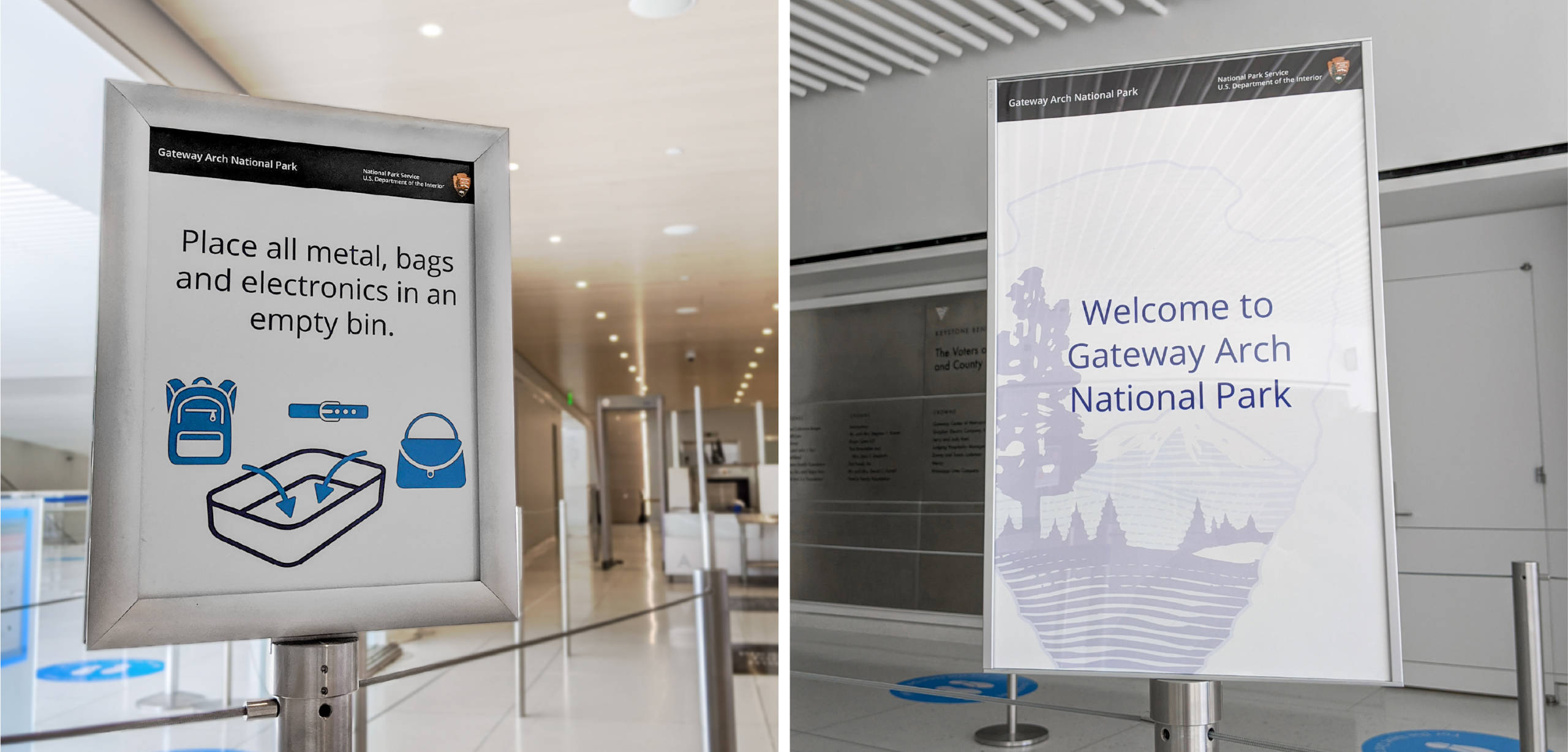 Executing this experience meant designing a lot of signage that kept visitors mindful of their surroundings and the safety of others. This included:
Plexiglass ticket booth signage to notify visitors of mask policies, credit card usage and sanitation precautions 

Line queue signage indicating the updated security check process

Reminders for traffic flow and social distancing throughout the facility

Floor decals to manage social distancing and queueing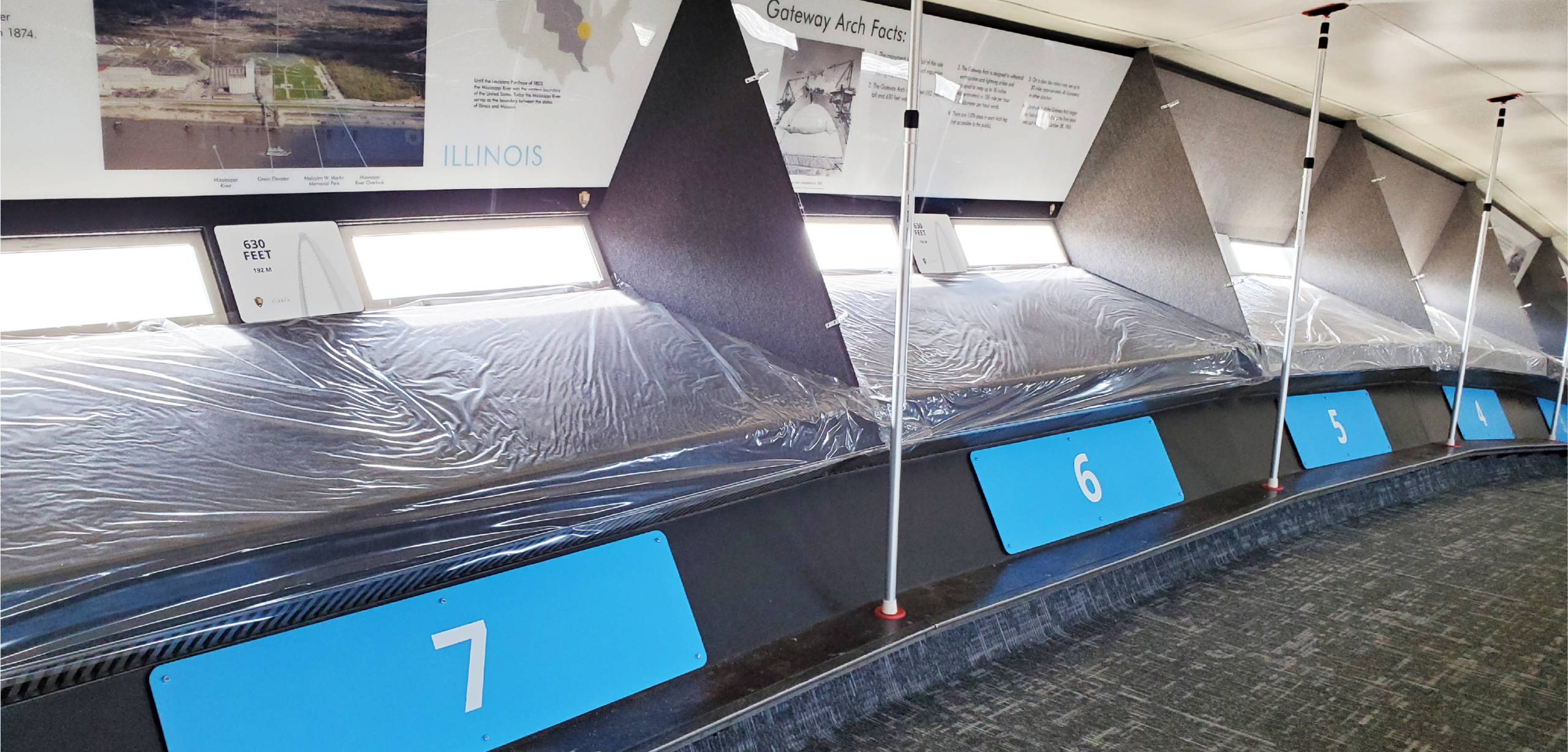 Tram Experience
The Tram Ride to the Top is the most iconic part of a visit to the Arch. And if you've done it, you know the challenges we faced. It's a tight squeeze just to get into the tram cars—and it's hardly a big space waiting for you up top. We needed to reframe this experience for the safety of visitors while keeping in mind the attraction's profitability.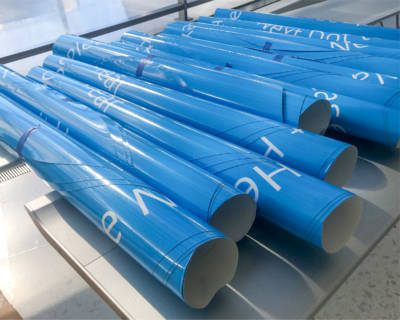 Once the Arch found a way to safely manage capacity in the trams and at the top, it was our job to make sure visitors understood the new experience. We created things like: 
Floor decals for responsible traffic flow

Single-way signage to avoid cross-traffic areas

Sanitation reminders for high-contact areas
Be on the lookout for these updates when the tram reopens later this year.
Back of House
Behind the scenes, we designed a series of signage specifically for Arch staff to help them maintain a safe working environment. This included notices about COVID-19 symptoms and transmission, proper hand washing technique and shared equipment usage. Because front-line staff are in direct contact with visitors, it was vital that we equip them with the information they need to keep themselves safe.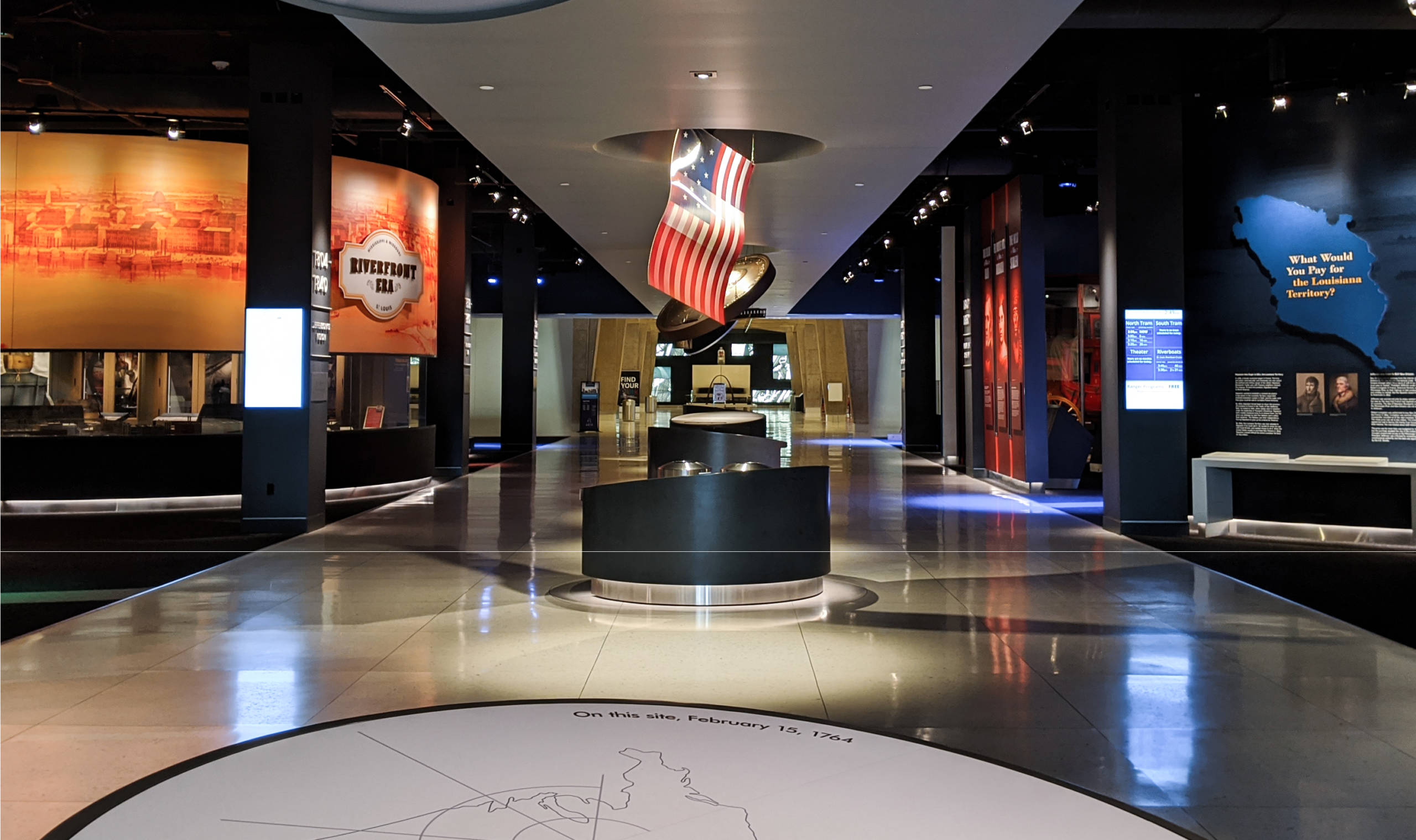 Although their needs may not be as expansive as a National Park, more businesses need to be mindful of wayfinding design in the coming months. It's one thing to open your doors—and another to open them responsibly. Give us a call and we'll be happy to check out your space and design an optimal visitor flow. And if you're looking to get out of the house for some much-needed sunshine, how about a day at the Arch?