Geo-Fence Your Next Conference and Be There Without Being There
08.18.17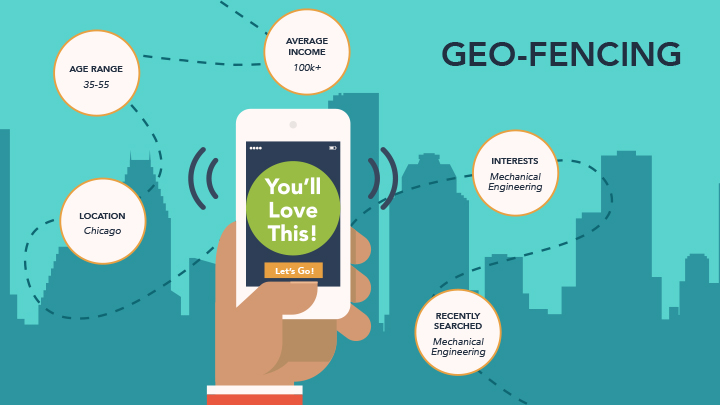 There are currently 1.8 million conferences, conventions, trade shows and exhibitions each year in the United States. Conferences provide valuable opportunities for your business to connect with both colleagues and potential customers.  However, with so many conferences each year, it may be difficult for a business owner to attend even one.
Ideally, you would attend every conference and make lasting impressions on everyone you meet, but those conferences and conventions come with hefty price tags. You will be expected to:
Take time away from your business
Purchase your conference pass, hotel stay, food, and possible airfare
Haul equipment and merchandise to and from the conference
Given these expenses, you may decide to skip a few events now and then–but that doesn't mean your message has to. Using geo-fencing and retargeting strategies, your company and messaging has a presence at any event.
Geo-fencing
Geo-fencing is a targeting strategy used to blast a digital banner ad to a specific location, usually an area of one mile or less. If you're missing a must-attend conference, then you may set ads to display in an area as small as the convention center, or broaden it to include nearby hotels and restaurants.
After establishing your geo-fence, demographic, psychographic and contextual targeting help filter the crowd and put your message in front of your target audience. These targeting strategies look at everything from the apps someone has installed on their phone to the articles they read online. Implementing a geo-fence campaign is an easy, cost-effective way to reach a hyper-targeted event audience–even if you aren't there in person.
Let's look at a complete example of how to geo-fence a conference:
Say you are a national mechanical engineering firm seeking new business.  You would like to attend a national engineering conference in Chicago, but costs are high. With a geo-fencing campaign, you will:
Set a location perimeter around the conference center, surrounding hotels and restaurants.
Select the start and end dates for your ads  to coincide with the conference.
Identify your target demographic. For our engineering firm, we'll target male and female business owners over 35 years old with an average income of more than $100K.
Narrow your audience with contextual targeting to serve ads only to those using mobile apps or viewing websites that are relevant to mechanical engineering or business ownership.
Drive your ads to a landing page that provides more details about your firm, service or promotion and include a Call-to-Action encouraging visitors to complete a brief web form or contact directly by phone.
Detailed geo-fences ensure that only the most qualified users will see your message during an event where they're more engaged than normal.  By showing your ads at the right time, at the right place, to the right people, you'll reap the benefit of a targeted audience visiting your website–all without attending the actual conference.
However, setting up your geo-fence  is only half of the work. Just like the first interaction with a client may not lead to a sale, not every viewer will click through to your landing page or fill out the contact form. You need to nurture these leads and guide them toward a purchasing decision.
This is where phase two comes in: Retargeting.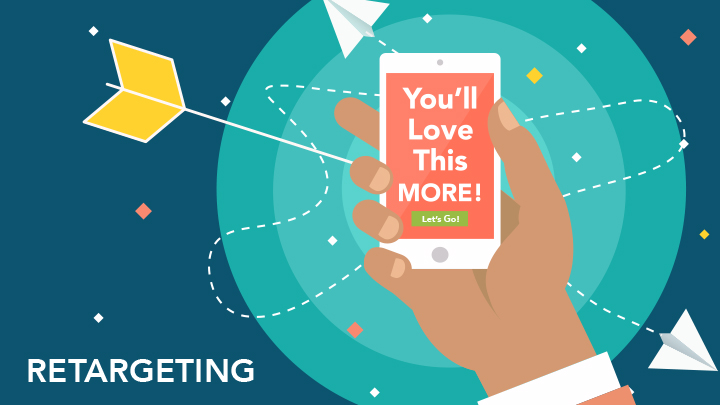 Retargeting
Retargeting strategies bring engaged visitors back to your website with a fresh, more compelling message. Once a user clicks on your geo-fenced banner ad, you may target them a second time, or retarget them, with a follow-up message to increase the chances of conversion. It's easy for your message to get lost at a tradeshow or conference as hundreds of exhibitors are competing for those leads. Retargeting strategies give you the edge by displaying new, branded messages to users who have already clicked your ads and expressed interest in your business.
Let's go back to the previous example and examine how retargeting completes your banner advertising campaign.
The conference is over, and your geo-fencing campaign is coming to an end. Your website received a ton of new traffic from the campaign, but only a handful of users completed your contact web form. By  extending your campaign with retargeting ads, you will:
Serve follow-up ads to those who visited your website during the geo-fencing campaign for a period following the conference.
Use a compelling Call-to-Action on your retargeting ads that promotes conversion. Gently nudge the user to take the next step by offering a discounted rate or other incentive to boost revenue.
Drive your ads to a landing page that encourages users to complete the form.
Retargeting campaigns help to deliver a branded message to re-engage your audience. Even after the event as ended and they've stepped out of your geo-fence, your brand will stick around. Without a strong retargeting strategy, your campaign will end with your geo-fence and could cost you countless leads and revenue opportunities.
Getting Started
Geo-fence campaigns offer endless possibilities for your business challenges. Our digital marketing team has successfully implemented geo-fence campaigns to solve a number of issues for our clients, such as:
Raising awareness of a new healthcare facility
Promoting a consumer goods product launch
Reaching B2B professionals in the tech media space
Recruiting talent in the finance services sector
If you need to engage your target audience–whether at a trade show or at the grocery store– look no further than a geo-fencing and retargeting campaign.
Setting up an effective campaign involves a ton of strategy and preparation, but we are here to help. Let us analyze your business goals and partner with you to develop a campaign that delivers results.